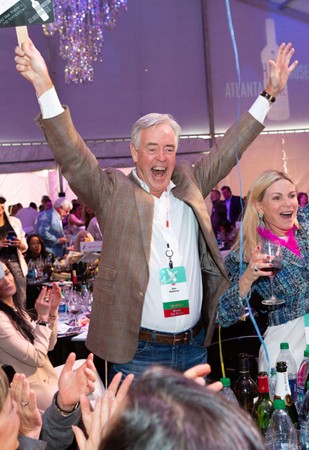 HIGH MUSEUM WINE AUCTION CASE
Overview
If for some reason you did not win the Elden Selections Silent Auction lot, here's your chance to buy the same wines direct. Elden Selections will donate 15% of all sales to the High Museum Wine Auction. Mixed case includes one bottle of each wine below ... GROUND SHIPPING INCLUDED
WHITES
Château Cary Potet Montagny 1er Cru 'Les Burnins' 2016
From the southern reaches of the Cote Chalonnaise, the wines of Montagny are among the best value in White Burgundy. With a unique and dusty minerality that many compare to a suave left-bank Chablis, the wines also profit from their southern position, so ripeness and maturity yield seductive and charming Chardonnay. This premier cru 'Les Burnins' has a mineral attack with orange blossom floral notes and spicy round fruit. Rich and smoky, with green apple acidity and a touch of butter. Good long finish carried by the minerality.

Jean Dauvissat Pere et Fils Chablis 1er Cru 'Montmain' 2016
Montmain, a Left Bank Chablis premier cru, is perhaps the best 'all-around' example of what Chablis should be. It comes from a very rocky soil which gives a very pronounced minerality with extraordinary power and good aging potential. At the same time, it is ample, full and round. It can be tight in its youth, but is characteristically exuberant and vivacious.

Domaine Jean Fery Savigny les Beaune 1er Cru 'Les Vergelesses' 2017
Yes, we admit, it can be complicated! There is this WHITE Savigny les Beaune 1er Cru 'Les Vergelesses', but the domain also makes both a red Savigny-les Beaune 1er Cru and a red Pernand-Vergelesses 1er Cru 'Les Vergelesses' as well. To make things even more complicated, the Pernand 'Vergelesses' and the two Savigny 'Vergelesses' touch another Pernand premier cru called 'Ile des Vergelesses'! Sorry! We do our best to keep it all simple and clear. In addition to being the most complicated corner of the Savigny valley, it is also the most interesting. This Savigny white is an eye-catcher, with a greeny-gold hint. Fresh, elegant fruit notes with spice tones and a hint of honey and flinty smokiness.

Germain Pere et Fils Saint Romain 2017
With admirable yields (45hl/ha), this Saint Romain white is taken seriously right from the start. Add 30% new oak and 8-9 months of aging and batonnage, and you get a very classy Chardonnay with the unique and superbly subtle Saint Romain minerality, full, rich and dense, with elegant floral notes, good acidity in its youthful charm. We found this wine on a restaurant list in Santenay and were so impressed we went the next day and became friends with the producers. An excellent bottle.

Chateau de Vergisson Pouilly-Fuisse 2017
These are vines from the southern part of the Vergisson valley, assembled from several parcels from the base of the rock at Solutré. This is classic Pouilly-Fuisse. Pure gold, with lemon-drop fruit, a touch of tannin to give it structure, and lovely acidity. So round and balanced, you want to chew it.

Domaine Oudin Chablis 'Serres' 2017
Pure Chablis which is fermented in stainless steel tanks. The wine rests on lees in tank for a year or more before it is bottled. Pale yellow with shimmering silver highlights. Bright with citrus, brine and flakey limestone notes. Elegant citrus fruit backed by lovely limestone driven minerality.
REDS
Jean-Jacques Girard Beaune 1er Cru 'Clos du Roi' 2017
Beaune 1er Cru 'Clos du Roi' is, as the name suggests, one of the best parcels in the hills above Beaune. Beaunes can have the spice of Savigny, so the style plays well into Jean-Jacques Girard's hands, but the Clos du Roi has the oomph of the Corton mountain. Red fruit ans spice, great building intensity, round, fleshy and persistent, It's a fist in a velvet glove.

Domaine Jean Fery Pernand-Vergelesses 1er Cru 'Les Vergelesses' 2017
Yes, we admit, it can be complicated! There is this Jean Fery RED Pernand-Vergelesses 1er Cru 'Les Vergelesses'. Sorry! We do our best to keep it all simple and clear. In addition to being the most complicated corner of the Savigny valley, it's also the most interesting. The vines are east-facing, low on the iron-rich slopes. This premier cru Vergelesses is charming and veloute, with freshness in the black fruit aromas. This wine is accessible fairly young. We start to enjoy them at about 3 years.

Agnes Paquet Auxey-Duresses 2017
A good percentage of whole grape in the maceration gives this Auxey red a delicate encapsulated burst of cherry fruit. The Auxey terroir and tannic structure on display, and the ensemble is well-structured and juicy in youth.

Pierre Thibert Nuits St Georges 2015
Black fruits layered on a complex background of coffee and spice, with fine tannins already melting in. Structured but still fluid, a great texture. Complete through the mid-palate with a long finish on cherry fruit and structure.

Domaine Borgeot Santenay Vieilles Vignes 2017
Year in, year out, this Borgeot Santenay 'Vieilles Vignes' is one of our favorites. We've been drinking this wine consistently since we first met Pascal Borgeot back in 1989. The first Borgeot wine we tasted was his Santenay VV in the 1985 vintage. It was beautiful even in its youth, and we drank it lustily. Have done ever since. Pascal surprised us a few years back with a secret stash of the 1985, and we re-lived our youth in a glass. This is our image of Pinot Noir from the Cotes de Beaune. It ranks as one of the best deals in Red Burgundy on this site...which explains why it is always among the first to sell out.

Jean-Claude Rateau Beaune 1er Cru 'Les Reversees' 2017
From young and old vines, on brown limestone subsoil and clay topsoil, in biodynamic agriculture. Long, slow day fermentation with manual pigeage, aged 18 months in not-new oak. Rich, showing deep aromas of blackberry, violets and earth with hints of citrus, plum and spice. The palate is round and ripe with firm acidity and deep black fruits ripe plum and earth going to a lovely long finish. While this can be enjoyed young it will be best after 5 to 7 years of aging.
Continue Shopping