May 20, 2022 | 'How To' guides | Elden Selections
The Perfect Burgundy Wine Glass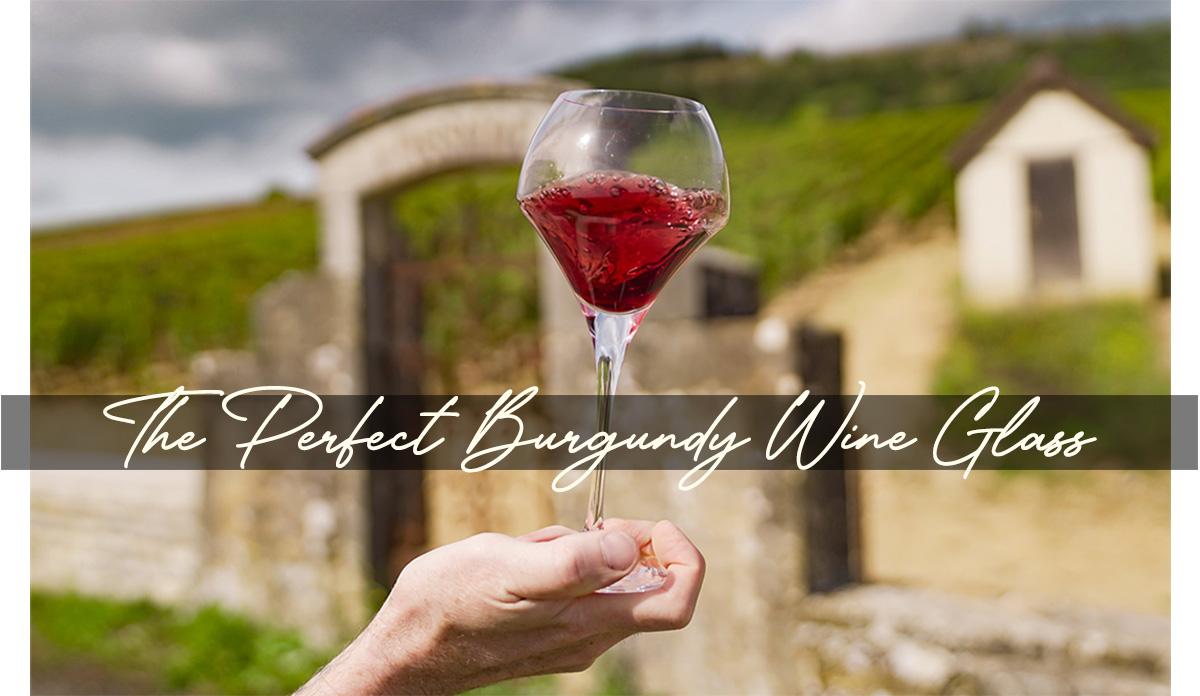 Previously, we posted a blog about how to choose the right wine glass. As we reflected on that blog post we came to see it as an educational piece covering wine glasses across the spectrum, illustrating many types of wine glasses for all different types of wines and wine varietals. Not really burgundy specific. So we sat down again with the team at Elden to re-examine this issue from a Burgundy perspective and from an Elden Selections perspective. Our goal was to move on from the generic to the specific as it relates to Elden and burgundy. Here it is.
Elden Selections is all about bringing you the best Burgundy Wines in the world. At Elden we don't just want you to be satisfied. We want you to be overwhelmed, to fall in love with Burgundy and to join us on the journey.
In Burgundy, wines can be complex, and demand the time and space that a really great wine glass provides, to allow them to tell their story. We want every sip you take of our wines to be a real moment of joy – for the eye, the nose and the mouth. We also know that you can only experience the very best in wine tasting when you're armed with the right glass. If you're using the wrong glass, then you may never get the full potential out of those Burgundy wines you picked so carefully.

Elden Selections has chosen two outstanding wine glasses which they recommend enjoying Burgundy wines in – and they're also used at Domaine de Cromey. Read on for more details.
We've been on a journey to find the very best glasses for our white, red and sparkling wines – and the results are now in. Read on to find out which glasses we chose in just a moment, but first – a little about why Burgundy wines need that extra-special glass selection to really let them sing.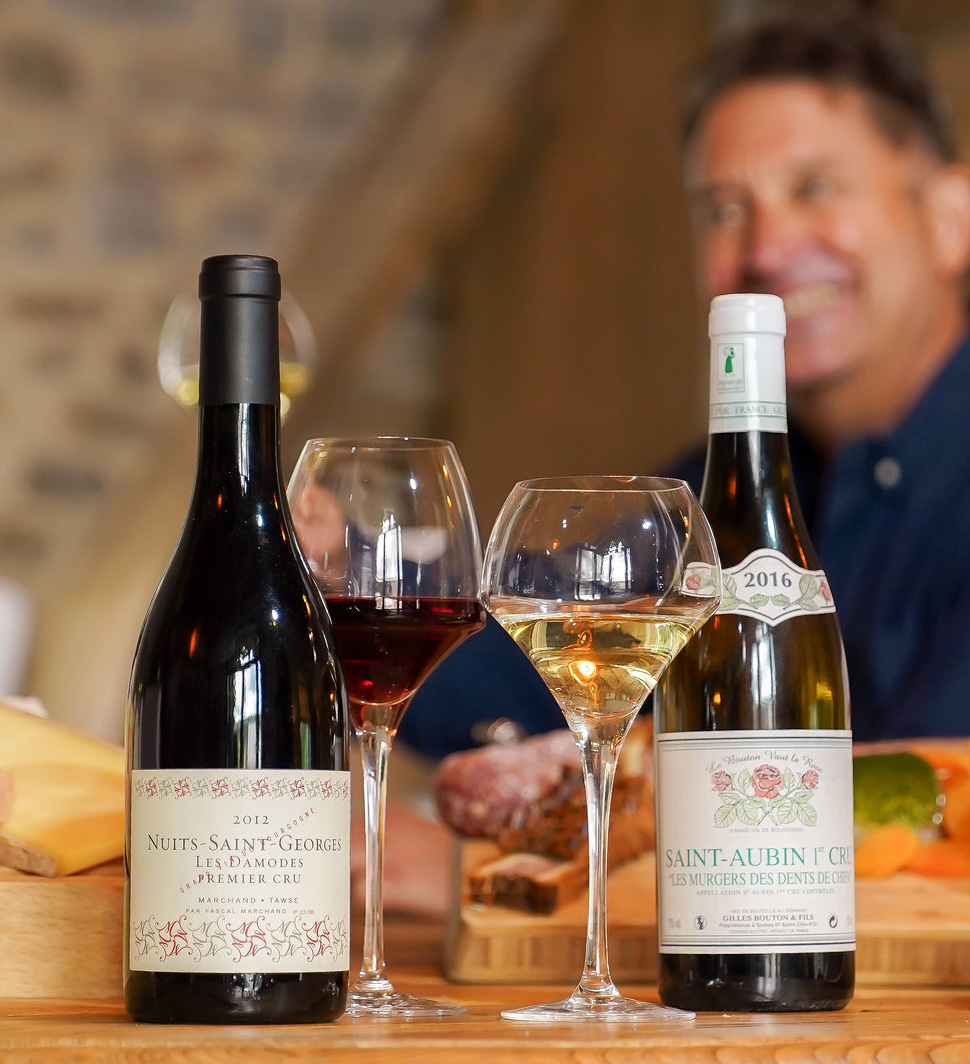 You'll know by now that Burgundy wines have a lot going on. It goes with the territory – it's a complex and many-layered region, with big flavors and big personalities – but enough about Dennis (!), what about the wines themselves? Wines from Bourgogne need time to breathe. This process of aeration – combining oxygen with wine – does wonders for the aromas you'll be able to discern when sniffing your glass, not to mention the taste and flavor profile. That's why Burgundy glasses are famed for their wider bowls, to allow this beneficial mixing of wine and air.
Another factor in any great Burgundy glass is the lip – and for complex Burgundy wines a relatively fine rim works well. It feels great on the lips, and allows the wine to pass unimpeded, into your mouth. A great glass shape can also direct the flow of wine to the right part of your palette.
All of the above factors are combined in the glasses we chose. A number of the winemakers Elden works with are using this wine glass shape, including Capitain Gagneron, and more are interested in moving to these glasses. We also use these glasses at Domaine de Cromey, our luxury manor house dedicated to the enjoyment of the food and the wine of Burgundy, and known by the locals the 'chateau' – we'd love to welcome you here as a visitor if you're ever visiting the area. So without further ado, let's discover these glorious glasses.
The perfect Burgundy white wine glass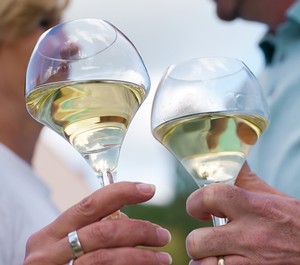 A truly exceptional white wine glass has been found, made in France (where else?) and using special Kwarx glass. We chose Kwarx as our glass material because of its three principal qualities: strength, transparency, and its ability to endure almost endless washes without any degradation in color (no turning white or cloudy after a few goes in the dishwasher). Chardonnay needs the right shaped glass, and this is surely it. Its steeply-angled sides allow the aromas specific to the grape – butter, fresh fruits, grass, and a host of others – to emerge and present themselves. They also have the added bonus of guiding the wines to the centre and sides of your tongue – because that's where you'll appreciate that balance between fruit and acidity, which the grape is well-known for. The lip is smooth and fine which, as we've seen, plays its part, and the stem is long and elegant. Overall, the glass is as smooth and fresh in design as a good Chardonnay is on the palette. The design even reduces the depressions in the glass which collect water sometimes after washing.
The perfect Burgundy red wine glass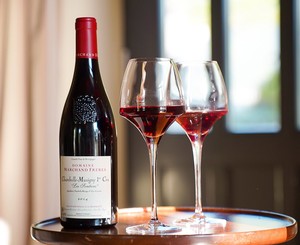 Based on a more universal style of design which pairs perfectly with a wide variety of wines, this glass is great for your red Burgundys, but can also be used for whites too. Fashioned from the finest Kwarx crystal glass, you'll love the elongated bowl and the slight taper of the rim (less than 1mm thick). This ensures the wines reach your mouth and nose at just the right time to really transport your tasting experience to the next level. You'll notice it straight away, as the shape has been designed to provide faster oxygenation to your wines, and a bigger flavor development – crucial for those meaty, leathery, chocolatey reds that Burgundy does so well.
At Cromey, we hand wash our wine glasses and polish them with a 100% cotton wine towel, but we understand that for many, modern life demands modern solutions and with this in mind, we chose glasses that can be washed in the dishwasher. We recommend the sniff test post-dishwashing and perhaps giving them a polish with a good cloth before using.
These glasses are as beautiful as the wine they hold within – and why shouldn't they be? A curvaceous, ergonomically designed glass with graceful lines will adorn any table, and feel great in your hand too – whilst guaranteeing you the most fabulous wine tasting experiences.
Look out for more of our articles explain the ins and outs of Burgundy wine, like this one in which we meet and greet some of the best female winemakers around at the moment. And don't forget our brand new Burgundy Wine Club, open for membership now!