December 6, 2022 | Elden Selections
Mighty Neighborly
Travel is a wonderful thing. It broadens the mind, refreshes the soul—and as the saying goes, a change is as good as a rest. But it's always great to return home to Burgundy—there's really no place like it. Yes, there's usually a small mountain of mail, and a to-do list a mile long which takes us a few days to conquer, but then it's like we've never been away.
A few years ago, we had returned from some time away and hadn't been in longer than 30 minutes when a friend knocked on the door, brandishing a hind quarter of wild boar (sanglier), quite literally on the hoof! No use in letting such a prime cut sit around for long; as soon as we could, we got right down to prepping it tout de suite with our cleavers. What did we do with all those succulent cuts of meat? Well, here's our recipe for Wild Boar in Red Wine with a Burgundian Potato Galette, for the next time you find yourself in just such a situation!
DAUBE DE SANGLIER ET POMMES DE TERRE RAPEES (serves 6)
You'll need:
4 pounds of wild boar meat from the shoulder and/or leg
2 onions
1 carrot
3 garlic cloves
1 bouquet garni (a tied bunch of bay leaf, parsley and thyme)
4 cloves
2 one-inch strips of orange zest
10 peppercorns
1 bottle red wine
3 tablespoons red wine vinegar
3 tablespoons olive oil
3 tablespoons unsalted butter
Fine sea salt
Freshly ground black pepper
For the thickening agent (beurre manie): 2 tablespoons unsalted butter at room temperature and 2 tablespoons all-purpose flour.
Advance planning is the key with this recipe, because the wild boar really needs a couple of days of marinading, if you can. This tenderizes the meat before it's cooked. It's also a good idea to do this with other game meats—a leg of venison, for example.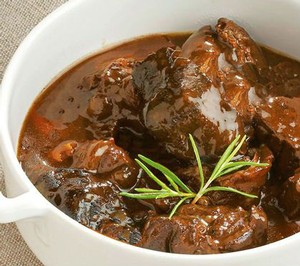 Dice the meat into 2-inch cubes, and place in a large bowl. Chop the onion and carrot coarsely and add to the bowl, along with the lightly crushed garlic. Next, make the bouquet garni by using kitchen twine to tie up parsley sprigs, thyme branch and 2 bay leaves. This goes in the bowl along with orange peel, cloves, wine, red wine vinegar and peppercorns. Stir it all, and if the meat isn't yet covered by the marinade, add water. Drizzle with olive oil, cover and refrigerate for between 24 and 48 hours, stirring once or twice.
Preheat oven to 300 °F.
Use a slotted spoon to lift the meat from the marinade and pat dry with paper towels. Strain the marinade, keeping the liquid and veg. Use a big heavy-bottomed casserole or Dutch oven, and heat butter and oil until foaming. To this hot fat add several meat pieces (not too many yet); brown well on all sides. Do this in small batches at a time until all meat has been seared. Remove from the pan and add the vegetables saved from earlier (not the bouquet garni) and cook on medium heat for 5-8 minutes until lightly browned. Add marinade liquid slowly and boil for a couple of minutes—this cooks off the alcohol. Add the browned meat, push it down into the liquid and add the bouquet garni. Using wet parchment paper about the size of the pan, cover the top of the meat. Cover the pot and put in the oven, checking after 30 minutes to ensure it is simmering nicely and cooking through. Put back in the oven for a further 90-120 minutes, or until very tender when pricked with a fork.
The beurre manie couldn't be simpler: knead the butter and flour together in a small bowl. Then relax.
Once the boar is nice and tender, take it out of the oven, lifting out the chunks with a slotted spoon and setting them aside. Use a fine strainer to strain the sauce. Try and extract as much flavor as possible from the veg and press them well. Then pour this back into the pan and boil. Now you can add the beurre manie mixture, 1 teaspoon at a time. Dissolve all the lumps, then season the sauce to taste, and reduce until it naps a spoon nicely. Put the meat back into the sauce, and now you can cool the daube, reheating when ready to serve. The next day it will taste even better! You can also serve hot, straight from the casserole.
POMMES DE TERRE RAPEE
Our serving tips are to accompany it with pasta, polenta or simple steamed potatoes. We sometimes serve it with cheese and potato pancakes (Pomme de Terre Rapee) which soak up all the unctuous sauce. We always use local white cheese—fresh from the farmer ideally— but if this isn't available then ricotta cheese will do as well. For these delicious pancakes, you will need:
1 pound waxy potatoes, such as Yukon gold
1 tablespoon all-purpose flour
1 large egg
¾ cup fromage blanc or ricotta cheese
3 tablespoons chopped chives
Fine sea salt
Freshly ground black pepper
Unsalted butter
Canola oil
Peel the potatoes and grate them in a food processor or with a fine hand grater. Put the grated potato into a bowl and mix immediately with the other ingredients. In a large non-stick sauté pan, heat a tablespoon of butter with a little canola oil over medium heat. With a large spoon drop in the potato mixture and let the pancakes cook and brown lightly on one side. Flip the pancakes and brown the other side. Remove the pancakes to a platter, season with salt and pepper and keep warm while making the rest. Serve the pancakes warm.
Wine: with a meat that has as much gamey flavor as this wild boar, a gutsy, powerful red that can hold its own is called for. In Burgundy, this means a noble, well-aged wine from the Cote de Nuits.
You can find this and many other recipes in Ellie's Cookbook on our website. Sign up to receive a free copy of 'At Home In Burgundy: The Papillon Recipes'. To read more fascinating articles about Burgundy wine, such as Buying Wine En Primeur, and How to Grow Plump Wine Grapes for a Deep and Complex Homemade Wine head over to our Domaine de Cromey blog.