TOP
Maison Capitain-Gagnerot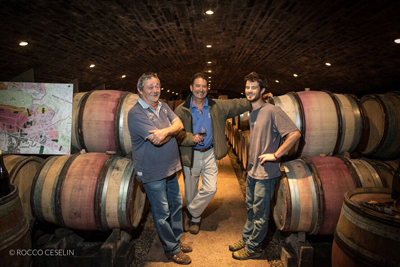 Appellations
White
Bourgogne Hautes Cotes de Beaune 'Les Gueulottes'
Saint Romain
Ladoix 1er Cru 'Grechons et Fourtieres'
Ladoix 1er Cru 'Hautes Mourottes'
Aloxe-Corton 1er Cru 'La Coutiere'
Corton-Charlemagne Grand Cru
Red
Bourgogne Pinot et Rose 'Saignee'
Cotes de Nuits Villages
Pernand-Vergelesses
Ladoix
Ladoix 1er Cru 'La Micaude' Monopole
Ladoix 1er Cru 'Bois Roussot'
Savigny les Beaune 'Les Charnieres'
Aloxe-Corton
Aloxe-Corton 1er Cru 'Les Moutottes'
Vosne Romanee
Corton 'Les Grandes Lolieres' Grand Cru
Corton 'Les Marechaudes' Grand Cru
Corton 'Les Renardes' Grand Cru
Echezeaux Grand Cru
Clos Vougeot Grand Cru
Maison Capitain-Gagnerot
Of all the introductions to winemakers that we've had over the years, none was more fortuitous than the day we met Roger Capitain. One Friday evening, late in the Fall of 1984, the man who gave us our first real job in France took us along to the Maison Capitain-Gagnerot, claiming that this was what real Burgundy was all about.
Little did we know then, but Capitain wines would soon establish themselves as our benchmark Burgundy, and our friendship with Roger Capitain would take us deep into the culture of the region that would become our home.
Roger died in 1999. But for 15 years he took us by the hand and showed us Burgundy. He was the first to show us that if you are looking for deep color in Pinot Noir, you've missed the point.
He taught us elegance and finesse, power and lace and the beauty of the lesser vintages. He also taught us strength and courage; and never to imitate, but to be inimitable.
Roger met his wife Arlette in Normandy, just after the Allied invasion. Finding the French forces in disarray, he joined the American army and marched across his homeland towards the liberation of Alsace. His appreciation of America's help overflowed in his cellar, where he shared his knowledge, wisdom and 50 years of winemaking with those of us who knew little of wine or war.
His sons Patrice and Michel, and Patrice's son Pierre Francois (the whole family, really) carry on a tradition that is most easily described as a style. There is no mistaking a Capitain wine. Once you know it, you can pick out a Capitain just from the nose. It's purity. And it is to this day our benchmark in Burgundy.
Founded in 1802 by Simon Gagnerot, the domain was among the first in Burgundy to offer estate-bottled wine directly to the public, rather than passing through the traditional 'negociant' network. In the next generation, Simon Gagnerot's son, Jean-Baptiste, went into partnership with his son-in-law, Francois Capitain, to develop both the vineyards and their sales. Hence the name Capitain-Gagnerot.
Principles
The decision to sell estate-bottled wine directly to the public requires vigilant attention to detail and an unbending dedication to quality. The most demanding client is the one who ultimately drinks the wine. The Maison Capitain-Gagnerot has a loyal following of individual clients.
They sell 80% of their production themselves in France, much of it 'out the door'; the remaining 20% is exported, but again, mostly to individuals. They like the personal contact, and often deliver wine themselves to clients as far away as Belgium and Holland. Their US sales amount to several hundred cases a year at this point.
Vine age and yield are important factors to consider at harvest time. The Capitain vineyards have, on average, 40 years of age. The average yield in Grand Cru reds is 40 hl/ha, and in the Corton Charlemagne Grand Cru white, a mere 28 hl/ha.
Many of their vineyards are planted in 'selection massale', meaning that rather than using modern clone varieties, these vines are propagated from old, pre-clonal stock, theoretically naturally adjusted to the 'terroir'. Vineyards are hoed in the winter and plowed in the spring to force the roots deeper. This guarantees maximum exposure to each unique subsoil. It also allows rain water to penetrate the soil, avoiding rapid erosion. Weeding in summer and reasonable disease protection ensure a healthy harvest. Ruthless pruning and 'green harvest' keep yields to desired levels.
Vinification
The domain states on its label that their harvest is done by hand. To them, this is a first indication of quality. Hand-picking is labor intensive, and less demanding growers will take short cuts when possible.
Hand- picking the harvest means that trained pickers can sort good grapes from the damaged ones in the field. Handpicking also avoids unnecessary stems and leaves getting into the crush. The harvest is then completely destemmed, again to avoid green tannins from stems and vegetation.
Vinification in red is 'traditional', meaning a cold maceration for 10 to 12 days, leading up to natural (no added yeast) fermentation. The classic 'floating cap' is pumped over and punched down twice a day. Fermentation goes to 30C. Reds are raised in 5-10% new oak each year for 12 to 18 months depending on the wine and the year.
Bottling is after a light filtration. Maceration in white is 'pelliculaire', meaning that the grapes are macerated whole, allowing the 'pre-fermentation' to occur inside the grape skins. This keeps fruit flavors fresh and clean. Alcoholic fermentation takes place at maximum 22C to allow the Chardonnay to preserve its freshness and aromas. All white wines are oak-aged (10% new oak each year) for 9 months. Temperatures are lowered to precipitate tartaric acid. Wines are then fined before bottling.