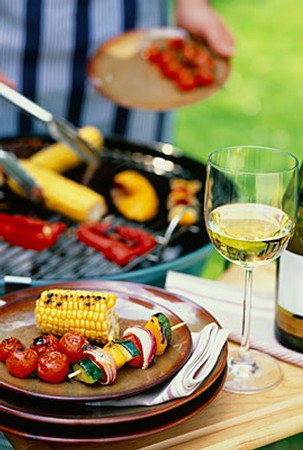 SUMMER BBQ WHITES CASE
Overview
Here's a mixed case of outstanding White Burgundy wines that will light up your summer BBQ and impress your friends and family!

Outstanding WHITE wines from outstanding winemakers in an outstanding vintage! You get 2 bottles of each, PLUS GROUND SHIPPING INCLUDED:
Domaine Germain Pere et Fils Saint Romain Blanc 2017
With admirable yields (45hl/ha), this Saint Romain white is taken seriously right from the start. Add 30% new oak and 8-9 months of aging and batonnage, and you get a very classy Chardonnay with the unique and superbly subtle Saint Romain minerality, full, rich and dense, with elegant floral notes, good acidity in its youthful charm. We found this wine on a restaurant list in Santenay and were so impressed we went the next day and became friends with the producers. An excellent bottle.
Domaine Jean Fery Savigny les Beaune 1er Cru 'Les Vergelesses' Blanc 2017
Yes, we admit, it can be complicated! There is this WHITE Savigny les Beaune 1er Cru 'Les Vergelesses', but the domain also makes both a red Savigny-les Beaune 1er Cru and a red Pernand-Vergelesses 1er Cru 'Les Vergelesses' as well. To make things even more complicated, the Pernand 'Vergelesses' and the two Savigny 'Vergelesses' touch another Pernand premier cru called 'Ile des Vergelesses'! Sorry! We do our best to keep it all simple and clear. In addition to being the most complicated corner of the Savigny valley, it is also the most interesting. This Savigny white is an eye-catcher, with a greeny-gold hint. Fresh, elegant fruit notes with spice tones and a hint of honey and flinty smokiness.
Jean Dauvissat Pere et Fils Chablis 1er Cru 'Fourchaume' 2016
Fourchaume is the best known of the Chablis premier crus, perhaps because it is an extension of the Grand Cru vineyards, and benefits from a similar Right Bank exposition. Round, mature fruit, crystalline purity, sweet, lemony acidity classic cool river rock minerality. A classic Chablis premier cru.
Domaine Borgeot Chassagne-Montrachet 'Vieilles Vignes' 2016
The Domaine Borgeot makes one of the purest and most consistent styles in Chassagne-Montrachet today. This village Chassagne comes from 50 year old vines, and it's fat. But by no means flabby. With orange flower richness and dusty minerality and good acidity to hold it all in suspension, this wine (as is often the case with Borgeot wines) drinks way above its appellation. There is a spiciness that almost reminds you of muscat, but the structure says Borgeot.

Agnes Paquet Bourgogne Chardonnay 2017
Raised partly in steel with a small percentage of oak, this Chardonnay from strong limestone soils in the Hautes Cotes is crunchy, like biting in to the grape bunch, with fantastic freshness and good acidity on the finish. Mineral and pure.
Domaine Oudin Chablis 2017
Classic sweet river rock minerality and floral freshness, this is a meticulous perfectionists' Chablis 'tout-court' (as the locals call the 'village' appellation). This wine is at its peak now and will remain there for another 3-4 years. A lovely introduction to the Domaine Oudin style.
Continue Shopping