June 10, 2022 | Appellations | Elden Selections
Vougeot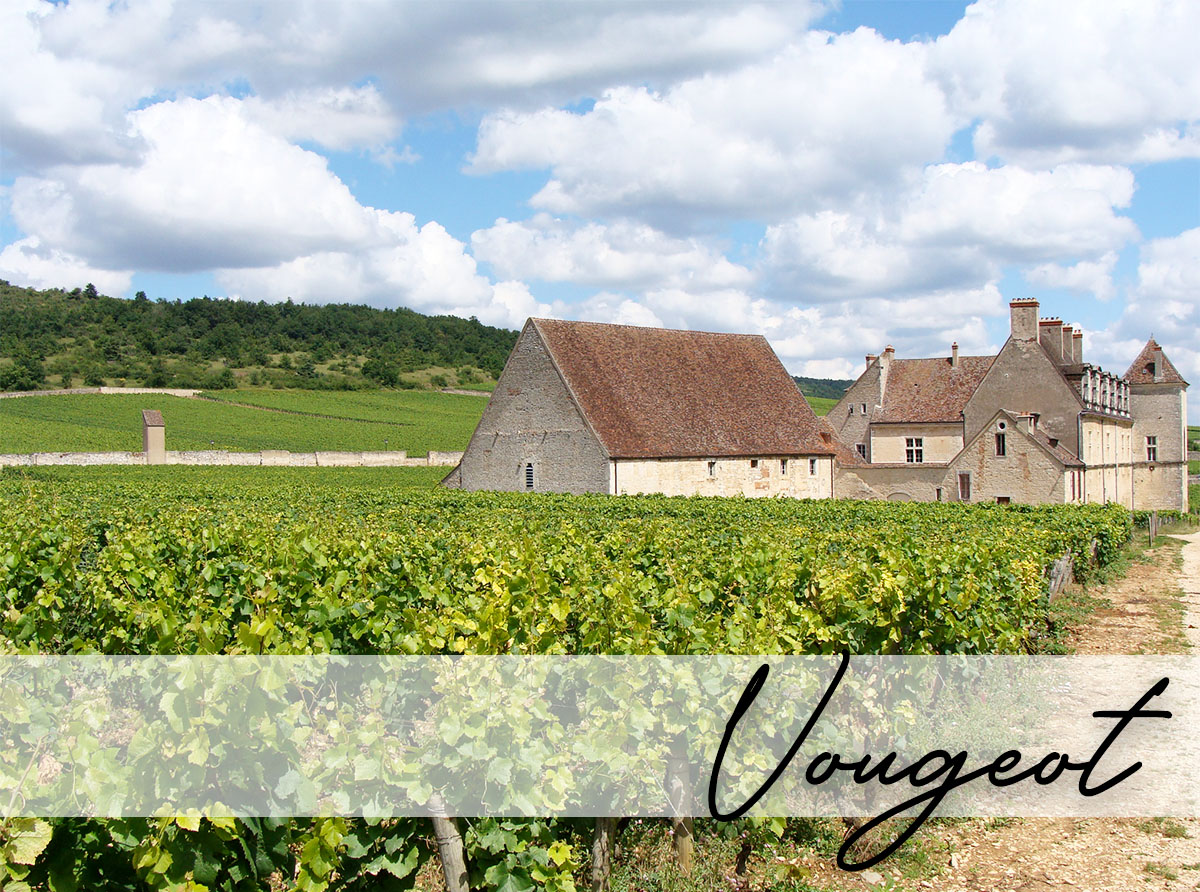 From little rivers, great oceans may flow. So it is with Vougeot, a small village in the Côte de Nuits, named after the little river Vouge. Though the smallest commune in the wider Côte d'Or region, it is also the largest Grand Cru clos (meaning 'plot' or 'vineyard'). Most of the wine from Vougeot comes from this single vineyard – the outstanding Clos de Vougeot. There are also 4 Premier Cru plots nearby, whose names have become known (but not too famous) – Clos de la Perriére, Clos Blanc, Les Cras, and Les Petits Vougeot. Though most of the wine here is red, some white is produced of admirable quality. Vougeot's neighbors are also well known for their superb red wines – Chambolle-Musigny and Vosne-Romanée in particular.
With more than 50 plot owners within the 50 or so hectares of Grand Cru vineyard here, it really does help to know something of the producer and their plot when you're buying. Soils change almost yard by yard, and there's as much variety of terroir as there are personalities here. A little research goes a long way; beyond the wall of the Grand Cru vineyard lies basic village level wines (which can nonetheless be of worthy quality, depending on what you choose). Elden Selections have done their research already and offer several great wines among a field of winners.
Though Vougeot is best known for the Grand Cru Clos de Vougeot, its Premier Crus make great 'insider' wines, with 'Les Cras' the best situated. Earthy and stony with complexity and nuance, the Domaine Jean Fery Vougeot 1er Cru 'Les Cras' is better than many parcels in the Clos de Vougeot itself. But for those for whom nothing but the Grand Cru will do, then allow inimitable producer Capitain-Gagnerot to provide their own Clos Vougeot Grand Cru. As with many prestigious vineyards, only certain sections actually merit Grand Cru status. Let the buyer beware! Luckily, the small parcel that Maison Capitain owns is in the heart of the very best zone, touching on Grands Echezeaux (on the other side of the wall). Capitain Clos Vougeot is true Clos Vougeot.
The regular reader of these blog articles will not be surprised to hear that it was the (supposedly!) austere and abstemious Cistercian monks that first cultivated vines in the Clos Vougeot. Based at nearby Citeaux Abbey, they developed their land over the ensuing 200 or so years. Today, another brotherhood base themselves on this hallowed ground – the Confrérie des Chevaliers du Tastevin. Since 1934, this group has

tirelessly promoted Burgundy and its wines, and now has over 12,000 knights (Chevaliers) the world over.
Strange to think how the historic, beautiful architecture of the nearby buildings has parallels with the superlative descriptions of the Vougeot wines. 'Solid', 'sturdy', 'four-sided' flavors in the mouth, yet 'fine textured' too. The visitor to this part of the world is guaranteed to have all five senses stimulated.
Speaking of stimulation, pairing Vougeot reds with the right food can take the experience to another level. Look for roasted game (two or four-legged) and try some exotic dishes too, such as Peking Duck or spicy couscous. The white wines of Vougeot will benefit from pairings with seafood – their luxurious yet understated delicacy makes them a perfect partner for lobster, crawfish or fish in creamy sauce.
If you want to read more articles like this on the wonders of Burgundy, along with great 'How To' guides, profiles of producers and appellations and much more, check out the other articles on our blog. Don't forget our Burgundy Wine Club is open for new members – you'll love the special selections of wine, curated by Elden Selection's Dennis Sherman, plus there are tasting notes and recipes with each shipment, and free entry into a draw for a 4-day/3-night stay at Domaine de Cromey.