August 16, 2022 | Appellations | Elden Selections
Morey-St-Denis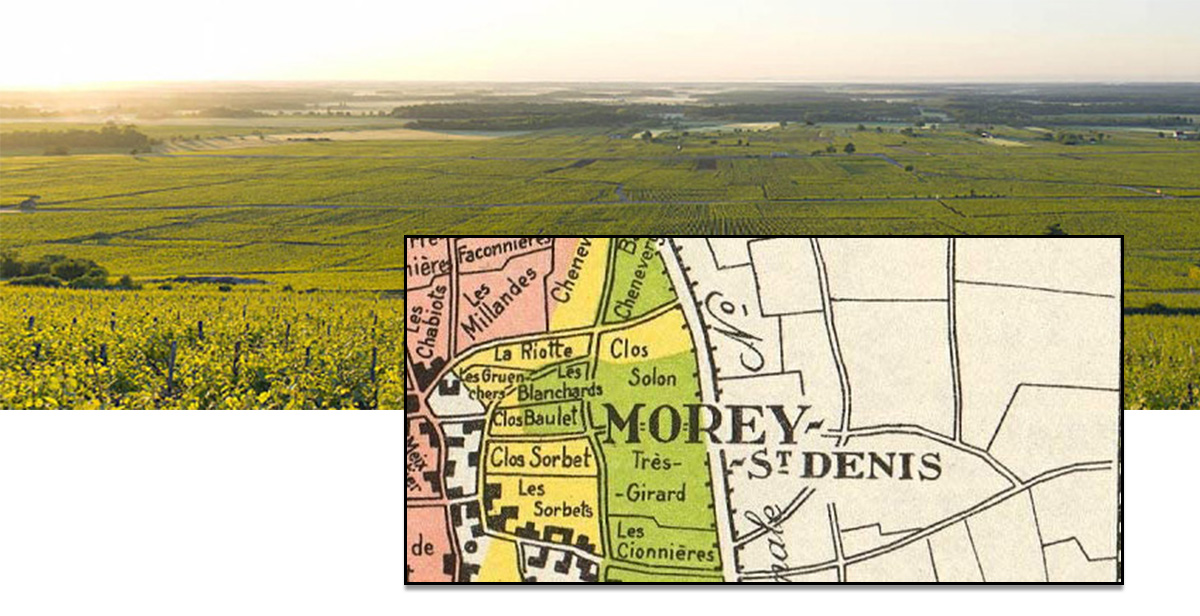 The Côte de Nuits village of Morey-St-Denis, with its emblem showing two running wolves, sits between two of the most famous names in Burgundy wine – Gevrey-Chambertin, and Chambolle-Musigny. To the south of Morey, Chambolle offers delicate wines, whilst its northerly neighbor Gevrey is known for its structured, powerful wines (favorites, too, of the Emperor Napoleon). Morey itself, on the other hand, has a less distinct character, certainly less famous - and consequently it offers some of the most affordable and best quality wines in all of Burgundy.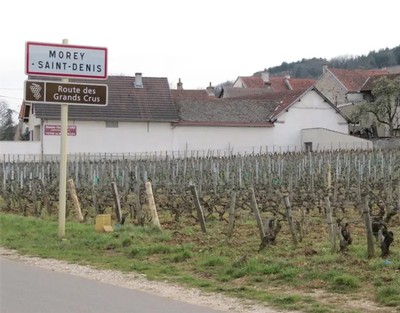 Here, over half of all the land available is dedicated to Premier Crus (20 of them) or Grand Crus (5), equating to just over 270,000 bottles, mostly of red. This is the highest percentage dedicated to such high-quality vines in the whole of the Côte de Nuits. A certain Dr Lavalle (a 19th century wine-loving Burgundian who wrote an influential classification of local terroirs) commented that of Morey wine 'it can be said that it lacks nothing'. Indeed, all of the Morey wines stocked by Elden Selections heartily support that assessment.
Starting at the top, a superlative Marchand-Tawse Clos Saint-Denis Grand Cru – wild, earthy power tempered by an impressive balance. Such potential for greatness is part and parcel of the mystic of this appellation. From the same producer are two more Premier Crus; first the St Denis 1er Cru 'Millandes', situated just below grand cru Clos de la Roche and showing a black cherry bouquet and a long, elegant finish; and secondly their 'Clos des Ormes', historically named after the elm trees which once grew there, and with a stellar bouquet of Christmas spices and glazed cherries – one for a truly special occasion.

Other gems to be found in the Elden cellars include the Domaine Marchand Freres Morey-Saint-Denis 1er Cru 'Faconnieres' - one of the best-situated of the many great Morey-St-Denis Premier Crus. Add to that 50-year-old vines and vinification worthy of a Grand Cru, and here you have Burgundy truly at its best. For something a little more everyday-drinking, the same producer offers a very enjoyable Morey-St-Denis Vieilles Vignes. Finally, look out for the Morey-St-Denis village AOC from Domaine Jean Fery, which has black fruits that impose themselves, sweet and round, in a structure that is typical of Morey minerality, with a freshness bred of fine tannins and good balance.
Morey itself is a village of great diversity – in terms of characters, history and viticulture too. But alongside this diversity comes consistency of winemaking. Its magnificent walled Grand Cru plots draw the eye, though it's worth remembering that in the more famous neighboring villages, land prices can be much as four times higher. That's why Morey is one of the best places to make wine at the moment. And it's the land that makes the difference in the quality – from the lower-lying red clay to the sparse, rockier hill tops, the vines are a direct expression of earth that has been lovingly worked here for almost a thousand years.
And what of that wolf emblem that the village has? Well, legend has it that during a famine some 1,000 years ago, the nearby village of Saint Philibert lost a valuable cow. When questioned about it, the people of Morey denied any knowledge of it. After the bones of a cow were found in nearby woodland, the Morey villagers would say only 'we know nothing, but there are wolves in the area', with a knowing glint in their eye. Nowadays, the glint is still there, but it represents the remarkable secret of the Morey-St-Denis wines. They are quickly snapped up – but usually by thirsty customers, rather than hungry wolves.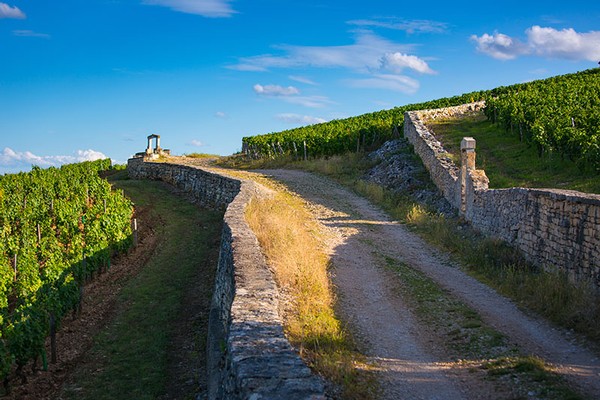 We have lots more great articles and How To guides on the Elden Selections blog – including on the subject of Chilling Wine, and a look back at 2018's Astonishing Harvest. And don't forget our Burgundy Wine Club, open for membership now!