October 21, 2022 | Appellations, Regions of Burgundy | Elden Selections
Aloxe-Corton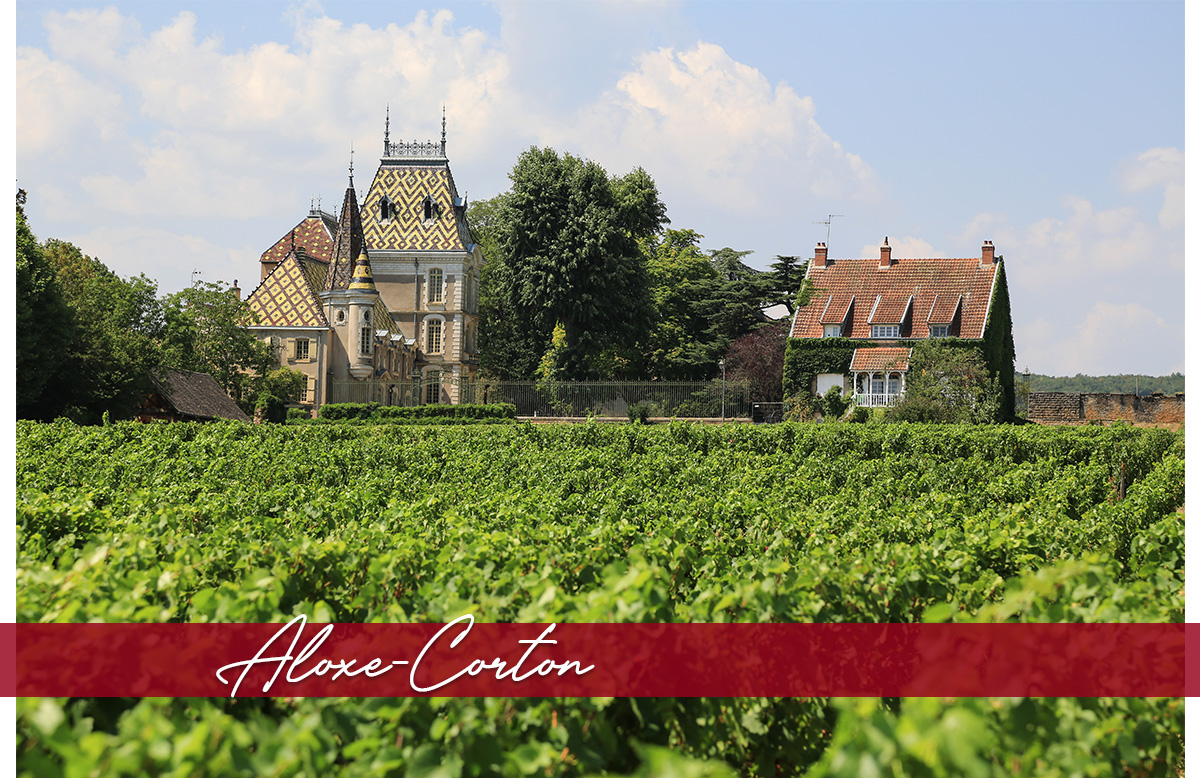 The history of wine in Burgundy is almost indistinguishable from that of the royalty and nobility of this ancient land. Take the village of Aloxe-Corton, for example. First mentioned in 696, it has an almost mystical appeal, thanks in part to two legendary characters; Corton red wine and Corton Charlemagne white wines are named after the emperors Curtis d'Othon and the more famous emperor Charlemagne. Back in the year 775, Charlemagne gifted the vineyards here to the religious community at Saulieu, and legend has it that the white Chardonnay grape was chosen to avoid any unfortunate staining of his beard…
This region represents a natural, geographic link between the Cote de Beaune and the Cote de Nuits regions. It is dominated, famously, by the majestic Corton Hill, and the AOCs of Pernand-Vergelesses and Ladoix-Serrigny share the hill alongside Aloxe-Corton, with some overlap in classification.
Despite the risks to beards, most Aloxe-Corton wine is red, grown on just over 270 acres of prime terroir, and a third of it designated as Premier Cru. White wine is grown here, but in much smaller quantities (around 12,000 bottles from a little under 2 hectares of land).
The AOC here was granted in 1938, and today around half a million bottles are produced, from eight Premier Crus and numerous smaller vineyards. It is from these lesser appellations that much of the best wine comes, and Elden Selections works with some of these fantastic small vignerons:
Jean-Jacques Girard, for example, produces a superb Aloxe-Corton red – with powerful, animal notes on the nose, it's a mouthful of black fruit, with the elegance rolling in on the mid-palate and sticking around for the finish and the reflection.
There are also world-class offerings from Capitain Gagnerot in the form of his Aloxe-Corton 1er Cru 'Les Moutottes', made from vines that are more than 70 years old, planted in classic Aloxe-Corton limestone, making 'Les Moutottes' structured, muscular and dense, with great black fruit and overall charm.
For those looking for a rare white from these parts, Capitain Gagnerot produce the world's only white Aloxe-Corton Premier Cru! Clear white gold, with notes of fern, apple and honey.
Anyone lucky enough to scale the heights of the hill of Corton and survey the gorgeous surrounding countryside would find that as you ascend, the soil profile changes subtly, with the best wines coming from nearer the top. Here you find a unique microclimate with perfect wind patterns, slightly more sun exposure and temperatures a fraction lower than elsewhere on the hill. It is thanks to these serendipitous conditions that we have these wines, the very crème de la crème of the appellation.
Such is the calibre of Aloxe-Corton wines that a new record was set at the 161st Hospices de Beaune Wine Auction, with a bottle from these revered vineyards fetching €800,000. It was purchased by the French actress and singer Jeanne Balibar, and actor Pio Marmaï, who sponsor the Insitut Curie and the important research it carries out into the treatment of breast cancer.
As ever in Burgundy, it's all about the soil. Here it is reddish-brown, rich in limestone debris and flint, giving a real sense of minerality. The characters of these wines differ according to whether they come from the north or south of the hill. Those from the north are fruity and tender, but the more southerly wines are notably more muscular and firm. Keep them in the cellar for fifteen years or more, though to enjoy their fruity charm you can also drink them young. Then you'll find them pale green with golden highlights, delicate on the nose but very fruity and citrussy. Honey comes with age, then leather and even truffle. If you want wines to rival the greatest bottles from Puligny or Chassagne, you've found them here in Aloxe-Corton.
2018 was a particularly good vintage for these wines – they rode out the heatwave and ripened gloriously into masculine, even leathery wines of great quality. With the trend in hotter summers and warmer winters likely to continue, producers in Aloxe-Corton and on the Corton Mountain look set to produce many more great vintages.

If you're interested in reading more great articles about the Burgundy region, its wines and producers, then head over to our blog page, where you can read all about the wine women of Burgundy, and some great 'How To' guides such as this one on how to choose a wine glass which will really let your wines sing. And don't forget that you can now become a member of our Burgundy Wine Club – join us for the wine journey of a lifetime!