September 16, 2022 | Elden Selections
Your invite to the New Domaine de Cromey Tasting Room!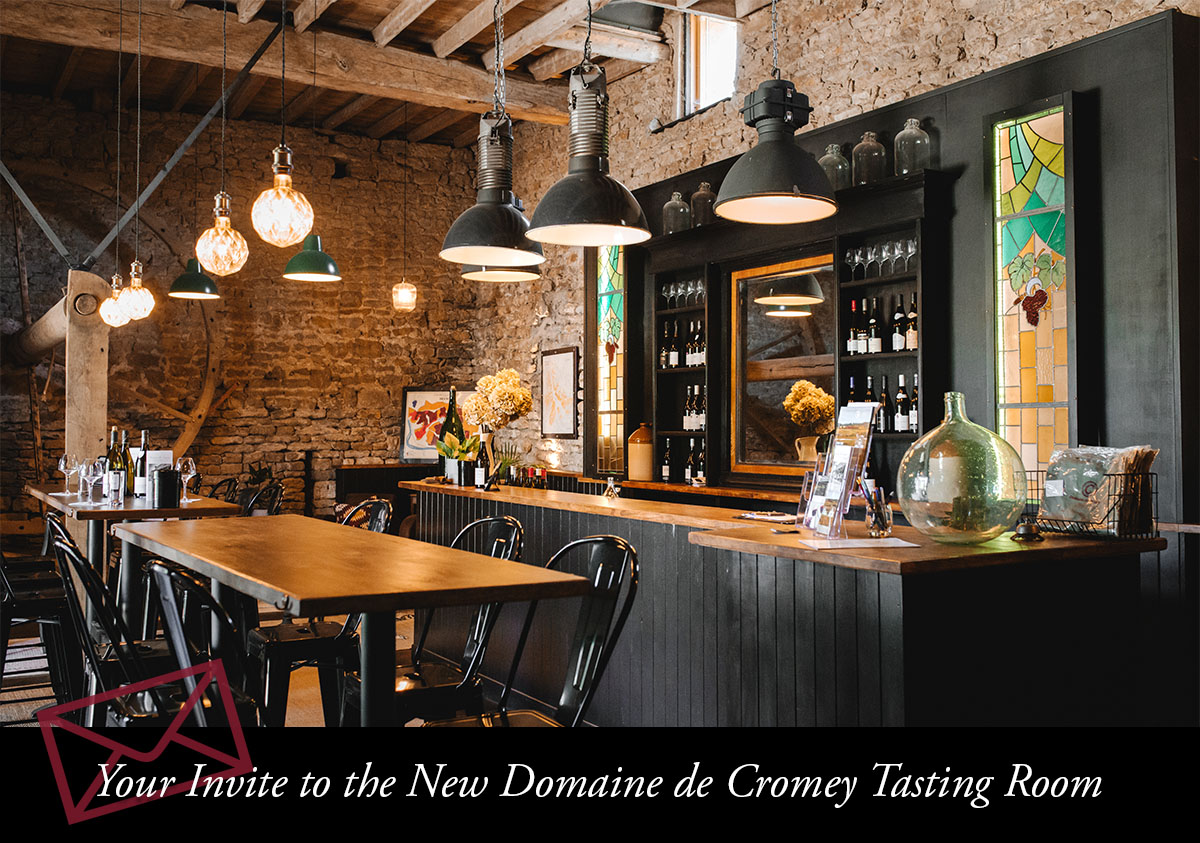 The wine world can teach us many things about life – the circle of our lives and the influences of those who came before us. Sometimes the symbolism is subtle, and sometimes it's the most obvious thing in the room, as it is with the huge wine wheel in the new Domaine de Cromey tasting room.
It's a wheel that was used to operate one of the great wine presses of Burgundy some four hundred years ago, until at least the beginning of the last century. But it symbolises much more than a simple mechanism, for it also represents the story of the building we taste our wines in.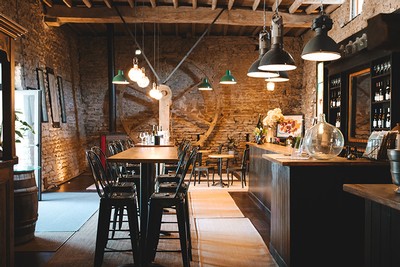 Our tasting facility—think private members' club crossed with sports bar with a hint of baronial splendour—is based in a sixteenth century former winemaking facility. In fact, it was the foremost winemaking facility in the area, and the source of the wine enjoyed by the Nobles who called Chateau de Cromey (as it was then known) home.
Now, despite the intervening centuries, this building is back in the wine business as our flagship tasting room. We take great pleasure in knowing that people are again tasting wine in this great building after 400 years. The original construction has been meticulously preserved with modern updates added to allow for fun days of wine tasting and all that goes with that.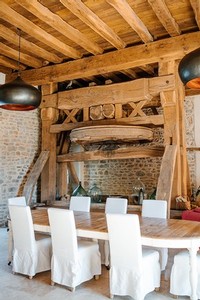 Want to see one of those wine presses? Simply take the short walk across from the tasting room to the main dining room at Cromey and you'll immediately see and feel the imposing presence of a wine press dating from the early part of the 19th century.
It's true what they say about tasting wine on the ground it was made in and aged under; there's something captured in the spirit of Burgundy wine in Burgundy that you just can't replicate anywhere else, especially when it's paired with Burgundian food. Many of our customers come here to make their own physical connection between the Elden wines they've enjoyed at home and the place they originate from.
In one of our tastings, we'll talk together about how we first met the producer of the wines we sample; what's their history, and how has their family shaped winemaking here over generations? We'll look at the villages the wines come from, the specific plots the vines grow on and how they're vinified.
We'll also get into the detail of the wine's character and teach you everything you need to know about the art of tasting wine. For example, the stages of enjoying wine can be split into what our eyes can tell us, what our nose picks up, and what we taste in our mouth. 'The attack' is what we call the first taste on the palate – how it makes itself known. Then the 'mouthfeel' is really just that – how does it feel when you roll it around in your mouth? Then there's the oak to consider – not all wines are aged in oak, and it tends to divide people who like it and those who don't, but it sure can add a fascinating extra dimension to a wine's taste profile. Finally, you get to 'the finish'. How does it leave you feeling? Does it linger, changing subtly for some time, or is it explosive? If it feels like it just cleansed your palate, then that could be a great choice with rich food between courses.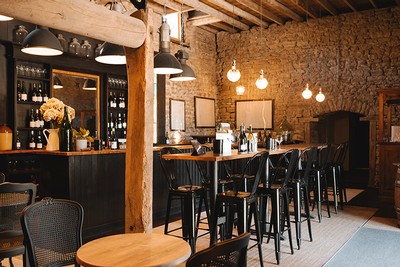 We'll explain the drinking 'window' for wines so you can enjoy them at their very best, and we'll take a look at how they'll age. It's also a great opportunity to discover other wines you are likely to love based on your drinking preferences. You can also use our brand-new palate advisor feature on BurgundyWine.com by Elden Selections to explore every different type of Burgundy wine imaginable.
Virtual tastings with our producers
For those who can't make it overseas to us this year, keep an eye out for some of the virtual tasting sessions that we sometimes run with wines from Elden producers. We'll bring you the inside story from the growers we work with, explaining everything you ever wanted to know about the wines you've been enjoying from Burgundy. That aroma you thought you detected on the nose? That flavor you couldn't quite put your finger on? This is your chance to hear from us how we got to know the producer, how their wine was made, and discover the influences of vine and vintner on it.
Follow this link to book a tasting with us. And from all of us at Elden Selections, happy tasting!

To get full tasting notes for all our wines, as well as specially hand-selected wines from the best of our small appellations and producers, why not become a member of our Burgundy Wine Club? You also get free entry into a draw for a 4-day/3-night stay at Domaine de Cromey. And to read more blog articles about your favorite wines, head over to the blog at BurgundyWine.com.