May 14, 2022 | Elden Selections
The Côte de Nuits – great wines, in a nutshell…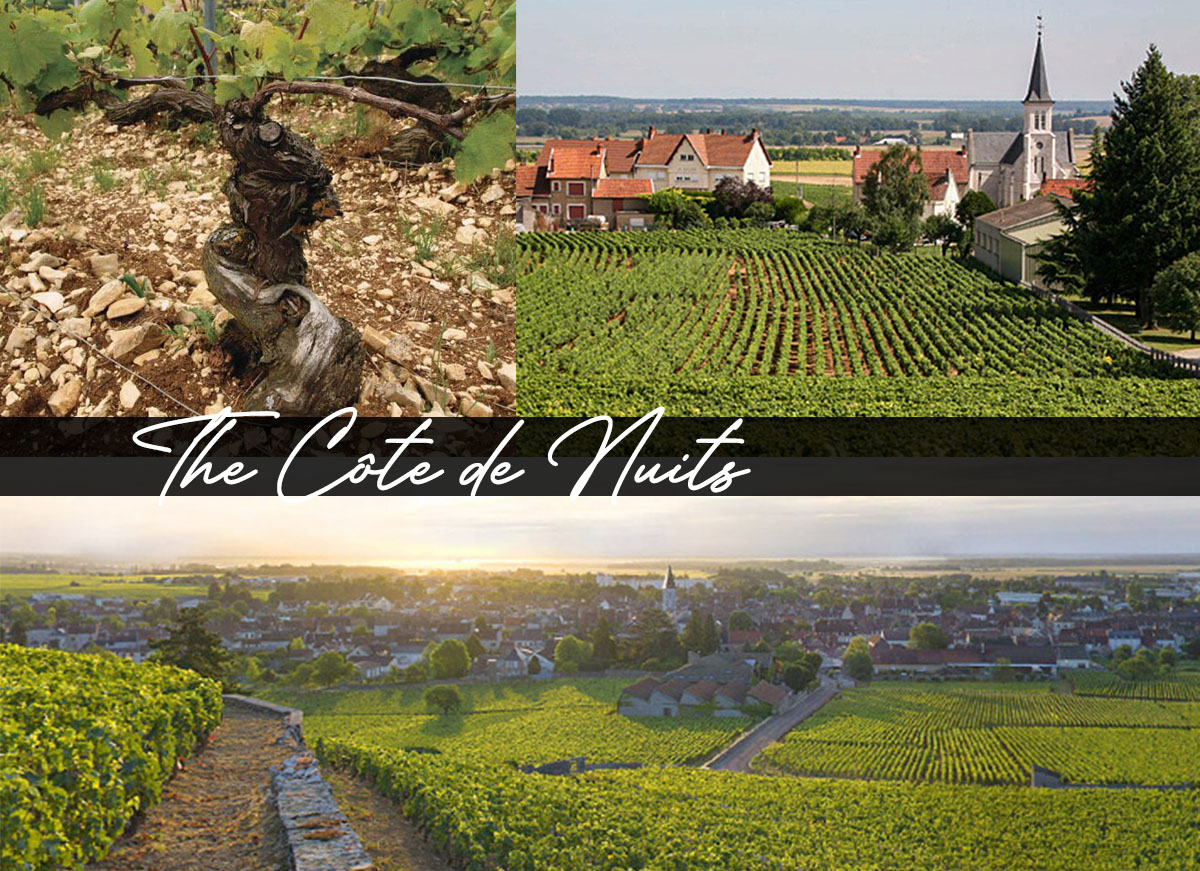 The Côte de Nuits is known for world-class Pinot Noir wines – it's a cornucopia of superb reds (and a very few great whites), a jewel in the Burgundian crown, and many other superlatives – but in case you are practicing your French, it's got nothing to do with the night-time. In fact, there is some debate as to where the name of the picturesque town of Nuits-St-Georges (after which the Côte de Nuits is named) actually comes from. It may be a corruption of the Celtic 'un win', meaning a valley stream, though others claim it refers to the walnut trees in the area, known in Latin as nutium. The more general word for nuts, nux, may therefore be an influence.

Whatever the etymology, the quality and renown of this hallowed terroir - the northern half of the Côte d'Or - is beyond question. The tourist who is lucky enough to be driving south from Dijon can expect to pass through a veritable wine list of famous place names, each with their own world-beating wines. To name just a few, there's Marsannay, Fixin, Gevrey-Chambertin, Morey- St-Denis, Vougeot, Vosne-Romanée, and Nuits-St-Georges. There is also a separate region, known as 'Hautes-Côtes de Nuits', which produces both red and white wines from slopes a little higher up (as the name suggests), above the escarpment of the Côte de Nuits.
But what if you aren't driving this way anytime soon? Then let Elden Selections bring these wines to you instead. There is a wealth of choice in their cellars, from producers like Marchand-Tawse, Domaine Jean Fery, Julien Cruchandeau, Domaine Thierry Mortet, Domaine Pierre Naigeon, Domaine Pierre Thibert and Domaine Joliet.
95% of the wines from this region are red, but there are exceptional white wines too. And of course, the Hautes Cotes whites are stunning. Take the wines from Julien Cruchandeau – he makes both Hautes Cotes de Nuits white and Aligoté, each a model of what these higher altitude whites can be, reasonably priced, floral and rich, fresh and open.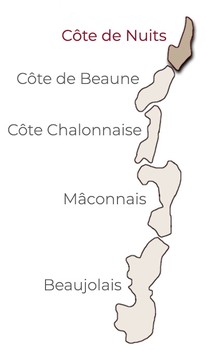 Sometimes known as the Champs-Elysées of the Bourgogne, the narrow strip of Côte de Nuits hillside can be just 200 meters wide in some places, though it stretches for over 20 kilometers. The producers on this vein of rock are specialists in red wines. You can probably guess why – drainage, climate and soil. It really is all about the terroir. As you go up the slopes of the Côte de Nuits, a mixture of scree and silt begin to enrich the marl. Add to this a confluence of exposition and shelter, and you get a stretch of more than 20 grand cru vineyards.
This is the most northerly region in Europe to make such high-quality red wines – often challenging, as rain and damaging hail can threaten the delicate crop. The fact that the quantities made are relatively small can also mean high prices – that is, unless you know where the great value and quality is to be found (hint – it's often in the cellars of the smaller producers).
It helps to do your homework when looking at the Cotes de Nuits, as it is one of the most complex and fragmented wine growing regions in the world. Clos de Vougeot, to take just one example, is a walled-in vineyard of120 acres, but it is divided among more than 90 growers. Gevrey-Chambertin has more famous individual vineyards than any other commune in Burgundy.
While the producers impart their own personality on their wines, the land plays a major role as well. In Gevrey-Chambertin, Nuits-St-Georges and Vougeot, you're likely to find robust, muscular wines – contrasting with Chambolle-Musigny and Vosne-Romanée where you can expect wines with more elegance and finesse.
That, in a nutshell, is why the Côte de Nuits holds pride of place in the hierarchy of the world's great wines. And it proves time and again that size isn't everything. The best wines often come from the smallest vineyards and the tiny domains that work them.
Don't forget our Burgundy Wine Club is open for new members – you'll love the special selections of wine, curated by Elden Selection's Dennis Sherman, plus there are tasting notes and recipes with each shipment, and free entry into a draw for a 4-day/3-night stay at Domaine de Cromey.