March 15, 2022 | 'How To' guides | Elden Selections
How to Get the Most Out of Your Burgundy Wine Tasting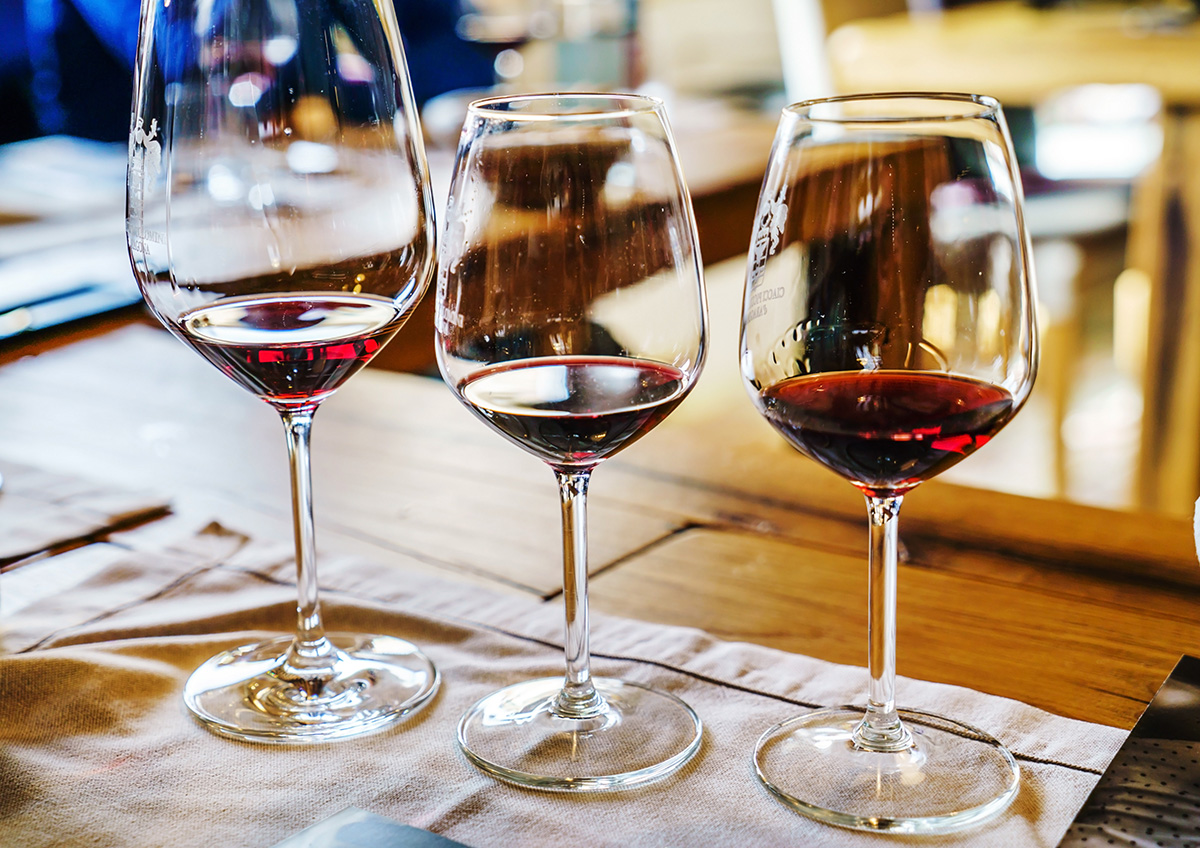 It's easy to get carried away when we talk about how to taste wine. Burgundy wines can give us the most intense pleasures which may be hard to put into words—but still we try. Just remember that it isn't strictly necessary to use any of these words/phrases to enjoy wine. The experience is no less important or meaningful. You can smile at the whole exercise and simply say the wine tastes good, if you like. But talking about the wines we taste is a great way to spend an evening, sharing thoughts with like-minded enthusiasts—it's all part of the experience. What follows are the basics of what to look for and think about when tasting your wines. But tasting can also be a very personal thing for everyone, so do what you enjoy and learn along the way.
The stages of enjoying wine can be split into what our eyes can tell us, what our nose picks up, and what we taste in our mouth. Take them one by one:
The Eye
Burgundy wines come in the most astonishing range of colors. Appreciate them in the bottle and then in the glass. Notice how the light reflects off the wine and the glass in shards of brilliant color. (You may also hear this called the wine's 'robe'). For example, the reds of Auxey-Duresses may be bright ruby, whilst the whites of Meursault have a robe of greeny-gold, but with silvery hints. One other thing to be aware of—when you swirl your wine, see how it runs back down the side of the glass. If it is slow and leaves droplets (known as 'legs') then this can indicate a high sugar or alcohol content.

The Nose
There are generally three types of aromas (also known as the bouquet) when we speak about wine which are helpful to keep in mind: primary (derived from the grapes themselves); secondary (coming from the fermentation or the barrel itself); and tertiary (which develop through the aging process and the natural evolution of the wine over time). Drink them all in. The Pinot Noir grape may make you think of spring flowers, musky ones like jasmine, red or black fruits (like a great Aloxe-Corton wine), right through to leather, cinnamon, or liquorice. Chardonnay can put you in mind of apples, almonds, honey, or orchard blossoms and peaches (especially if you're drinking a wine from Puligny-Montrachet).
You could even try thinking of a wine in 3D—layers of aroma and taste, and with an overarching 'structure' too, with a beginning, middle and end (more on that below). If you're not getting much on the nose, try decanting a wine, and make sure it's at the right temperature, too. (Have a look at our blog on how to store wine for more information on where and how to keep your bottles).
The Mouth
When you come to taste the wine, those first stages of noticing color and aroma will pay dividends and help you make sense of what you're tasting. Take a small sip, draw air past it in your mouth, swill and then wait, without rushing to a conclusion. See what develops. The first flavors will be different to those which follow later on, (or what is sometimes called the 'mid-palate'). Remember here that the type of glass and the temperature at which you are drinking a wine will impact taste – check out our article on how to choose the best wine glass for enjoying your Burgundy wines, as this can also make an appreciable difference.
Trust your instincts when trying to put a name to a taste sensation. If you want more terms to try then consider these: 'the attack' is what we call the first taste on the palate – how it makes itself known. Then the 'mouthfeel' is really just that – how does it feel when you roll it around in your mouth? For Chardonnay, the experience on the palate is richer, deeper and rounder than other white grape varieties. Partly but not exclusively due to the process of Malolactic fermentation. If you're drinking Chablis, it may be sharper, and the flavors might be flinty or reminiscent of gun-powder – Jean Dauvissat's Chablis, for example, has floral attack and gun-flint smokiness on the mid-palate. If the wine is sparkling then the mousse (foam) will likely have a flavor all of its own, like a good Crémant de Bourgogne. Then there's the oak to consider – not all wines are aged in oak, and it tends to divide people who like it and those who don't, but it sure can add a fascinating extra dimension to a wine's taste profile. The age of the oak barrels will generally determine how noticeable it is, with new oak coming across as more pronounced than older oak. (More on oak in our article Of Oak and Barrels.)
Finally, you get to 'the finish'. How does it leave you feeling? Does it linger, changing subtly for some time, or is it explosive? If it feels like it just cleansed your palate, then that could be a great choice with rich food or between courses.
Some of the terms and metaphors used about wines from Burgundy may sound as if they're an adjective too far—but that's maybe only until you experience them for yourself, and things fall suddenly into place.
From all of us at Elden Selections, happy tasting!
To get full tasting notes for all our wines, as well as specially hand-selected wines from the best of our small appellations and producers, why not become a member of our Burgundy Wine Club? You also get free entry into a draw for a 4-day/3-night stay at Domaine de Cromey, our luxury manor house in the heart of Burgundy.