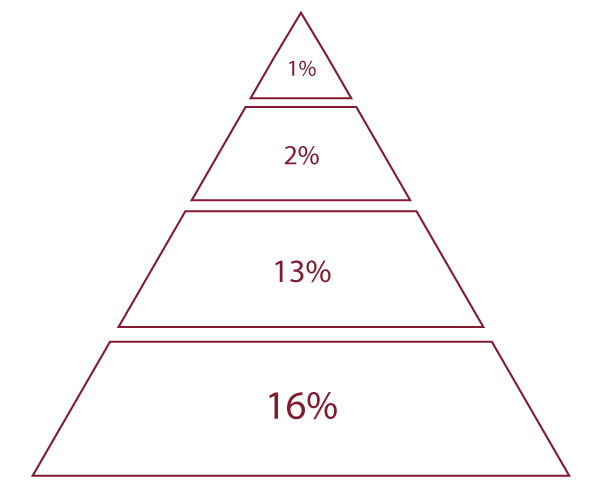 Theory:
The higher up the pyramid, the more structured wine can be.

Reality:
Complex and structured wines can be found at every level throughout the pyramid – it depends on multiple factors including the winemaker. Elden identifies and classifies these wines.

Blog Spotlight:
The Couchois
On the Up: Hautes-Cotes de Beaune Realizes Its Potential

Recipe Spotlight:
Roasted Quail with Cromey Garden Vegetables
Citrus Cured Duck Breast with a Grapefruit, Fennel and Haxzelnut Salad

Producer Spotlight:
Domaine Thierry Mortet
Jean-Jacques Girard
Domaine Jean Fery
Domaine Pierre Thibert
Capitain-Gagnerot
Complex, Structured Red

This is where it gets interesting for lovers of Pinot Noir. When we say that a Pinot is complex and structured, this is not necessarily to say that it's powerful and explosive. On the contrary, these wines are often subtle and understated, and belie the complexity and structure that's underneath. This is why we have the classification system that we do in Burgundy. These classifications go from simpler wine to more complex, from regional appellations right up to the level of Grand Cru, representing only a small fraction of wines (which should be the most complex of all). If you want to see a good example of this, choose a winemaker and taste one of their village wines alongside one of their Premier Cru wines. The difference should be obvious.
Burgundy's reputation is built on this hierarchy, so you won't be surprised to see that there are many, many examples of red Burgundy wines that are structured and complex. Once again, if you find a winemaker that you like, try wines from every category that they make. Not only will it be enjoyable, but also you will learn a lot about the structure of Burgundy wine and the 'terroir' that drives the passion.
The pyramid chart reflects the approximate percentage of total Burgundy production of red by each of the AOC categories, i.e. Grand Cru, 1er Cru, Village and Bourgogne.