Roasted Quail with Cromey Garden Vegetables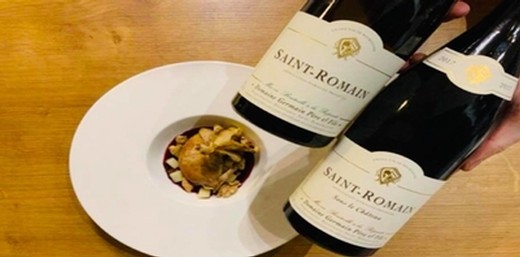 Recipe Date:
January 20, 2021
Measurements:
Imperial (US)
We simply roast the quail on the bone which helps to retain as much flavour as possible. All the other ingredients are picked from the grounds of the Domaine and reflect the late autumnal flavors.
Ingredients
2 wild quail
1/2 lb sloe berries
3 ozs sugar
2 1/3 bottle good quality red burgundy
2 fresh pears
2 tbsps good quality honey
2 ozs whole walnuts
2 sprigs red chard
1 cup chopped leek
Directions
Sloe berry jus ; Place the slow berries and sugar into a pot, bring to the boil, add the red wine, reduce until the consistency coats the back of a spoon. Set aside
Dried pear crisp ; Thinly slice the pear and spread evenly onto a non-stick tray and bake in an oven 200f for 40mins. Set aside
Honey infused pear ; Cut the pear into medium dice and coat with the honey. Set Aside
Roasted quail ; Roast in the oven for 356f for 25mins. Allow to rest
Walnuts ; Shell and bake in the oven 356f for 5 mins
Finely dice the leek and the red chard stalk, sauté in a pot, add a tablespoon of the jus and then the leaves. Set aside
To plate ; Use a bowl. Pour some jus on the base, then the leek-chard and leaves. Take the breast and leg from the quail and finish with the diced pear, pear crisp and walnuts.
Back to Recipes