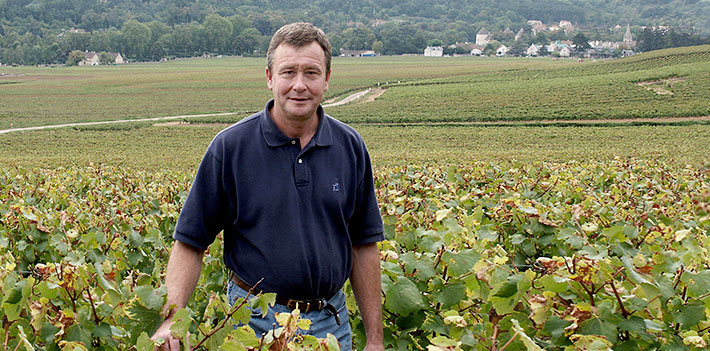 Appellations
White
Bourgogne Aligote
Savigny les Beaune
Pernand-Vergelesses 'Les Belles Filles'
Pernand-Vergelesses 1er Cru 'Les Fretilles'
Corton-Charlemagne Grand Cru
Red
Bourgogne Pinot Noir
Savigny les Beaune
Aloxe-Corton
Volnay
Pommard
Savigny les Beaune 1er Cru 'Les Fourneaux'
Savigny les Beaune 1er Cru 'Les Lavieres'
Savigny les Beaune 1er Cru 'Les Peuillets'
Savigny les Beaune 1er Cru 'Les Rouvrettes'
Savigny les Beaune 1er Cru 'Les Serpentieres'
Pernand-Vergelesses 1er Cru 'Les Fichots'
Pernand-Vergelesses 1er Cru 'Les Vergelesses'
Beaune 1er Cru 'Clos du Roi'
Domaine Jean-Jacques Girard
Jean-Jacques Girard's family was growing grapes in Savigny-lès-Beaune back in 1529. That, as the French say, is 'formidable' and would make the domaine one of the oldest in Burgundy.
But really what matters to us today is what happened to the domain in the past generation. Until the late 90s, Jean-Jacques father, Georges, ran the Domaine Girard-Vollot with infectious good humor, bringing his two sons, Jean-Jacques and Phillipe, into the business as they came of age. But when father bowed out, the sons soon saw that each had his own vision and style, and the domaine was split, pretty much down the middle.
The original domain was about 38 acres. And since the split, Jean-Jacques has built his holdings back to over 40 acres, making it one of the most impressive domains in Savigny. He has been a busy man in the process, adding to his impressive array of Savigny 1er Cru vineyards with parcels in Pernand Vergelesses 1er Cru in red and white, a Beaune 1er Cru 'Clos du Roi', some Volnay and Pommard and a little jewel in Corton-Charlemagne.
Savigny les Beaune lies in a peaceful valley rimmed in hardwood forest. The soil make-up under the rim ranges from crumbly shale to compact clay, and expositions range from north-east to full south, giving incredible diversity within a relatively small zone. Generally, however, Savigny produces some of the most perfumed wines of the Cote d'Or, both red and white.
Vinification
Vinification in white is traditional, but that can mean several things here. Whereas the Savigny white is fermented in large oak casks (foudre), the Pernand and the Pernand 1er Cru are fermented 'en masse' in 50HL vats. All are then raised in Burgundian oak (15% new) for just under a year, with weekly stirring of the lees until the end of malo-lactique fermentation, usually in March, then racking and bottling in late summer of the next year. The Corton Charlemagne is raised similarly to the Savigny white, but has a higher percentage of new oak (50%).
The Savigny white has 5 % Pinot Blanc in the crush.
Reds are 100% destemmed and undergo a short maceration in open vats before thermo-regulated fermentation. Wines are then raised in 15% new oak ( 25% for the old-vine Pommard and the Beaune 1er Cru 'Clos du Roi) for 15 months.