TOP
Domaine Pierre Thibert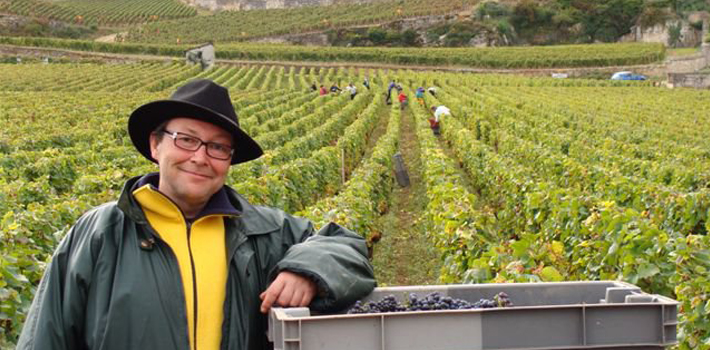 Appellations
Bourgogne Aligoté
Bourgogne rouge "Les Bouffales"
Chorey-les-Beaune
Cote de Nuits village "La Montagne"
Nuits-St-Georges
Nuits-St-Georges 1er cru "Rue de Chaux" cuvée vieille vigne
Domaine Pierre Thibert
Pierre Thibert is a 'garagiste' no more! And we're here to report on big changes in this small-production, top-quality, self-made domain. Pierre and his wife, Aline, have accomplished what many say is no longer possible in Burgundy: they built a solid family domain, a world-class reputation and a sophisticated style over the course of a single generation. They created something out of nothing!
Pierre chose wine making out of passion. He was not born into a wine family. At 15 he enrolled at the Lycee Viticole de Beaune, literally Beaune's Wine High School, where all the winemakers' kids go. When he got his BEPA diploma in 1984 he set about making wine, working with another winemaker at first.
Five years later, in 1989, he created his own domain in Corgoloin, one of the villages dominated by stone quarries in between the Cote de Beaune and the Cote de Nuits. Some people call it no-man's-land. For some it is the center of the Cote de Nuits-Villages appellation. For Pierre, it was his foot in the door. In 1995 he purchased an old winemakers house there, which has been the winery since then.
Renting vines in the appellations of 'Bourgogne' and 'Passetoutgrain,' while still working outside his own domain for another winemaker, the Domaine Pierre Thibert got off to a modest quiet start. Soon though Pierre was able to bring some Chorey-les Beaune and Aligote vines into his domain. Some purchased, some 'en fermage' (a sort of 'share-cropping' current in Burgundy), the list of wines grew slowly at first. Finally came the vines in Nuits St. Georges and Nuits St. Georges 1er Cru.
At present, he oversees about 10 acres of vines. Pierre takes pride in his single-vineyard appellations. But everything he touches show the mark of great respect for Nature and attention to detail in the vineyard.
Vinification remains traditional with respect for the soil and plant. Maturation is either in tank or wood, depending on the appellation, with a small proportion of new wood on the more prestigious cuvees.
The Domaine Pierre Thibert has a loyal following in France. Much of the production is sold at the winery, But regular citations in the prestigious French guides and magazines (including the Guide Hachette as well as 'Bourgogne Aujourd'hui' and the 'Revue de Vins de France') has brought a clientele from further afield.
Elden Selections is proud to bring these wines to the US for the first time.