Citrus Cured Duck Breast with a Grapefruit, Fennel and Hazelnut Salad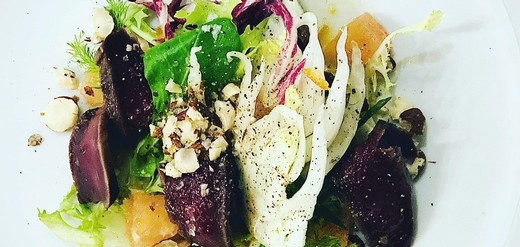 Recipe Date:
June 4, 2020
Measurements:
Imperial (US)
This curing of duck breast is similar to curing salmon for gravlax. The best kind of duck breast, called magret, is thick and very meaty. Perfect for this recipe. You need to make the rub and cure the breast refrigerated for 24 hours. The flavor in this salad is a wonderful combination of sweet, salty and sour. A few radicchio leaves or chicory add bitterness which lends it a delicious umami touch.
Ingredients
1 meaty duck breast skin removed
2/3 cup coarse sea salt (150g)
1 1/8 cups brown sugar (225g)
2 star anise
1 tablespoon coriander seeds
rind of an orange, lemon and lime
4 4 tablespoons good quality orange marmalade
2 tablespoons water
2 tablespoons white wine vinegar
1 pink grapefruit peeled and sectioned
2 cups of mixed salad such as radicchio, chicory and arugula
1 fennel bulb sliced very thinly
fine sea salt and freshly cracked black pepper
small handful of lightly toasted hazelnuts
Directions
Combine the sea salt, sugar, star anise, coriander and citrus zest in the bowl of a food processor and blend until you have a slightly moist paste. Put half the paste in a ceramic dish with cover or a plastic container and top with the other half of the paste coating the duck well. Cover and refrigerate for 24 hours.
Prepare the dressing: Combine the marmalade, water, and white wine vinegar in a small saucepan. Whisk to blend and bring to a boil letting it bubble for a few miutes to bring all the flavors together. Remove from the heat, pour into a pitcher and let cool completely.
Thinly slice the fennel bulb and place in a bowl of iced water.
Heat a small heavy pan over high heat. Lightly rinse the duck breast and pat dry with paper towel. Rub a thin layer of oil on the breast and sear in the hot pan for 1minute on each side. Remove to a cutting board and let cool.
Arrange the salad on a plate by layering the grapefruit segments, salad leaves, fennel slices and the very thinly sliced duck meat. Drizzle over the dressing. Scatter over the hazelnuts and season to taste with freshly ground black pepper and sea salt.
Back to Recipes