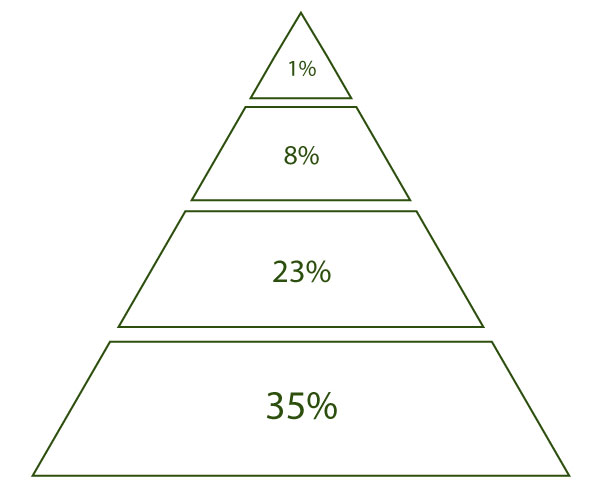 Theory:
The higher up the pyramid, the more structured wine can be.

Reality:
Complex and structured wines can be found at every level throughout the pyramid – it depends on multiple factors including the winemaker. Elden identifies and classifies these wines.

Recipe Spotlight:
Monkfish, Roasted Tomatoes, Green Olive Tapenade
Smoked Trout Croissant

Blog Spotlight:
Chardonnay
Auxey-Duresses
Aloxe-Corton - The Emperor of Burgundy Wines
Savigny-lès-Beaune
On the Up: Hautes-Côtes de Beaune Realises Its Potential

Producer Spotlight:
Complex, Structured White
As Pinot Noir is to red Burgundy, Chardonnay in Burgundy produces the greatest white wines in the world. And that greatness, while obvious in the Grand Crus of the Montrachets, Corton Charlemagne and Chablis, is not limited to the rare air of those vineyards.
There are excellent Premier Cru throughout the region, often on similar geological formations to the Grand Cru, and which make complex wines unlike any other single grape varietal. Burgundy is the zone of predilection for Chardonnay, and given a good vineyard with good exposition, the grape can produce sublime white wine in appellations that many wine lovers have not heard of.
Look for Cote Chalonnaise whites from Rully; wines from the fringes of the Grand Cru like Saint Aubin, Pernand-Vergelesses and Ladoix. Chablis premier cru is among the great values in structured complex white Burgundy. And never underestimate the quality that a great winemaker can produce, in even simple village appellations like Auxey-Duresses or Savigny lès Beaune.
The pyramid chart reflects the approximate percentage of total Burgundy production of white by each of the AOC categories, i.e. Grand Cru, 1er Cru, Village and Bourgogne.