Smoked Trout Croissants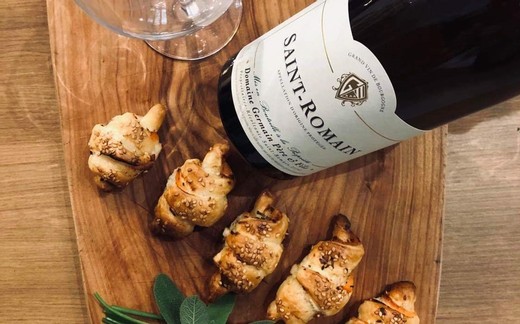 Measurements:
Imperial (US)
A savory croissant filled with smoked trout and horseradish pairs beautifully with a glass of Chardonnay. These can be made ahead of time and popped into the oven 20 minutes before serving or eaten at room temperature if made ahead of time.
Ingredients
1 (14-ounce) package puff pastry
1/4 pound / 4 ounces smoked trout
2 tablespoons creme fraiche
2 teaspoons grated horseradish
freshly ground black pepper
snipped chives or dill
2 tablespoons sesame seeds
Directions
Method
Pre-heat the oven to 400 F /200 C.
If available use ready to bake puff pastry sold in a round. If using sheets you will need to cut the pieces into triangles.
Mix the creme fraiche with the horseradish and brush this lightly over the pastry. Top with the thin slices of smoked trout and then the chives or dill and some freshly ground black pepper.
Cut the round into quarters and each quarter into 4 even pieces. Roll the cut pieces starting from the outside into a croissant shape. Put them on a baking sheet brush with a bit of milk and top with the sesame seeds.
Bake in the oven for 15 to 20 minutes until golden brown. Serve warm or at room temperature.
Back to Recipes