Monkfish, Oven-Roasted Tomatoes, Green Olive Tapenade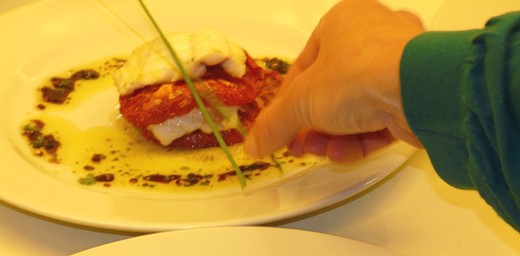 Recipe Date:
February 5, 2021
Measurements:
Imperial (US)
This dish has all those popular Provencal flavors. What's more, it's a really striking presentation. We make it here at home in Burgundy when garden tomatoes are ripe and flavorful. Don't be put off by the long list of ingredients, this recipe is not complicated. Make the vinaigrette by dissolving the salt in the vinegar. Add the rest of the ingredients, whisk well to combine, cover and let the flavors mingle while you roast the tomatoes.
Directions
Millefeuille de Lotte et Tomates Confites a la Tapenade Verte
Preheat the oven to 110° F.
Slice off the top and bottom of each tomato and cut each into thick ¾ inch slices. You will only get 2 or 3 slices out of each tomato. You will need 18 slices in all. Put the slices on parchment paper on a baking tray. Sprinkle over the garlic, drizzle over the oil and season with sea salt. Roast the tomatoes in the low oven for 3-4 hours until they are concentrated but still soft. Discard the skin from the tomato slices. Reserve.
Clean any membrane from the monkfish filet. This is important: otherwise the fish will curl up during cooking. Slice the filet on the angle to make 12 even, thin slices. Reserve on a plate in the refrigerator.
Put half the tapenade in a small saucepan and add the orange and lemon juice. Stir in the cream and taste for seasoning.
When ready to serve gently reheat the tomatoes in a low oven. Gently heat the tapenade cream until just warmed through.
In a large non-stick pan heat a tablespoon of olive oil and sauté the monkfish slices for 1 minute on each side.
On six flat dinner plates put a tablespoon of the tapenade cream in the center. Top with a tomato slice then a piece of fish then another tomato slice another piece of fish and end with a tomato slice. Whisk the vinaigrette and drizzle a tablespoon or two of dressing around the Napoleon. Garnish with the mint and serve warm.
Back to Recipes