Snail Ravioli in a White Wine, Garlic and Herb Bouillon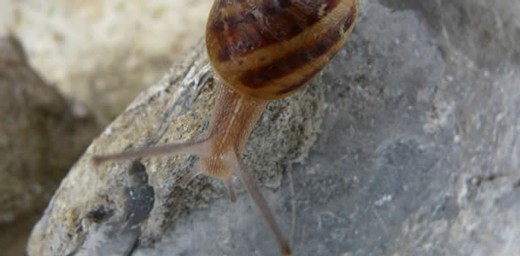 Recipe Date:
February 6, 2021
Measurements:
Imperial (US)
The consumption of snails in Europe has a long and, admittedly, dry history covering, according to some, 10,000 years and any number of species. So when purchasing snails it is important to look on the label for the taxonomic names. There are really only two species worth looking for: the Burgundy snail (called 'helix pomatia') and the petit gris from Provence (called 'helix aspersa'). Almost anything else is likely to be an Asian slug, and not a snail at all. These ravioli take some time to prepare, but are worth the effort. They can be made ahead of time and kept refrigerated on a trays lined with parchment paper, covered with dishtowels in single layers for up to 4 hours. The pasta should be rolled out on the thinnest setting of your pasta machine. This makes the ravioli very delicate. One of the surest wine and food combos is snails with Chablis. I call the flavor 'gravelly'. You can't miss. Domaine Jean Dauvissat makes some wonderful premier cru Chablis that pair wonderfully.
Ingredients
2 cups all-purpose flour or, better, typo 00 Italian pasta flour
2 large eggs
2 egg yolks
A small amount of milk, just to bind the dough
6 garlic cloves, peeled
2 shallots, sliced
1 celery stick, sliced
1 carrot, sliced
1 onion, minced
1 bouquet garni (fresh parsley, thyme and bay leaf tied with kitchen twine)
3 cups dry white wine
3 cups water
Small pinch of sea salt
6 black peppercorns
5 dozen small escargot de Bourgogne ('helix pomatia')
1/2 lb white mushrooms
2 garlic cloves, minced
1 shallot, minced
1 tbsp unsalted butter
1/2 cup heavy cream
2 tbsps unsalted butter at room temperature
2 tbsps finely minced fresh herbs such as chervil, chive or parsley
Fine sea salt
Freshly ground black pepper
2 tomatoes peeled, seeded and diced
1 tbsp unsalted butter
A handful of fresh chervil chopped, or minced chives
Directions
Make the pasta:
Put the flour, whole eggs, and egg yolks in the bowl of a food processor. Process. At the end of 30 seconds or so, the mixture should form into fairly small crumbs. (It should not form a ball. If it does, the mixture is already too wet, and you will need to add a little more flour.) Once you have the small crumb consistency, drip in the milk, drop by drop, with the machine still running. You want a paste that is neither crumbly nor sticky, but that holds together when pinched. Knead into a ball and let the pasta rest, covered with plastic wrap for at least 30 minutes.
Make the bouillon:
Combine 6 garlic cloves, 2 shallots, celery, carrot, onion, bouquet garni, white wine, 3 cups water, a small pinch of sea salt, and 6 black peppercorns in a saucepan. Bring to a boil and then simmer uncovered for 1½ hours. Strain through a fine sieve into a small pan, pressing on the solids. You should have about 2 cups of bouillon. Reserve the bouillon.
Place the snails in a small saucepan with the liquid from the tin and enough water to cover. Bring just to a simmer, drain immediately and rinse under cold water. Reserve.
Make the filling by chopping the mushrooms in a processor almost to a puree. In a sauté pan, cook the garlic and shallot in butter until soft. Add the mushrooms and season with salt and pepper. When the mushrooms have given off all their liquid and are fairly dry, add the drained escargot and the cream. Cook and let reduce until almost dry, 5 minutes or so. Off the heat, stir in the butter and herbs. Taste for seasoning, let cool, chill and reserve.
Divide the pasta dough into 2 equal portions and roll each out to the thinnest setting on a pasta machine. Lay a sheet of pasta on a work surface and cut into 4 inch squares. Place a teaspoonful of the mushroom mixture in the center of each square making sure to include two escargots in each spoonful and bring two opposite corners of the dough together to form a triangle. Press the edges firmly to seal. Bring a large pan of salted water to a boil. Drop in the ravioli and cook for 4-5 minutes.
While they're cooking, bring the bouillon to a simmer. Add the tomato and swirl in the butter. Taste for seasoning. It should have a fairly sharp flavor of wine to complement the richness of the filling.
Serve the ravioli hot in shallow warmed bowls with a ladleful of the bouillon and garnish with the chopped chervil or chives.
Back to Recipes