Scallops with Nori and Ginger-Soy Beurre Blanc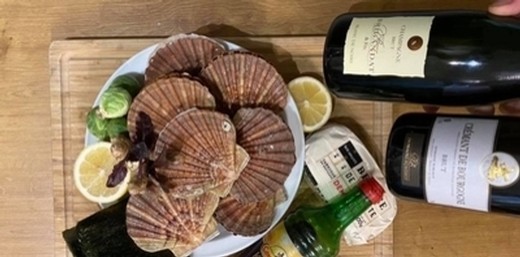 Recipe Date:
November 30, 2020
Measurements:
Imperial (US)
Pan fried scallops served with blanched sprout leaves, a ginger-soy beurre blanc and a Nori seaweed crumb.
Ingredients
12 scallops
1 lb brussel sprouts
1/2 lb good quality butter
juice of one lemon
1 tbsp whole peppercorns
2 tbsps grated ginger
1/2 bottle of burgundy white wine
2 sheets nori seaweed
2 shallot
1 tbsp good quality soy sauce
Directions
Place the nori sheets into the oven at 100F for one hour (to dehydrate) then blend. Set aside
Pick the leaves from the brussel spouts, blanch and refresh. Set aside.
Add the chopped shallot, lemon juice, ginger and peppercorns to the wine. Reduce by 3/4. Strain, cool slightly and whisk in cubes of cold butter.
Sear the scallops on a hot pan, ensuring a nice color and crust, when cooked, cool the pan slightly and add the spouts.
To serve, pour a base of the ginger beurre blanc, then the spout leaves, scallop and seaweed crumb. Add a few drops of soy sauce.
Back to Recipes