Roasted Turbot, Warm Seasonal Salad, Split Caper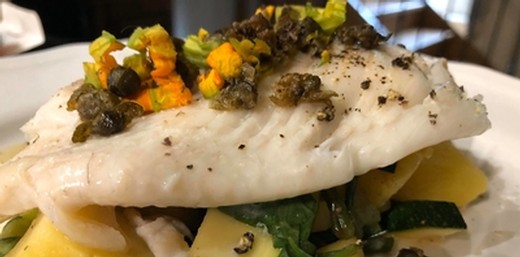 Recipe Date:
August 10, 2020
Measurements:
Imperial (US)
We have kept this wonderful Turbot on the bone enabling us to retain as much flavour as possible. We have also blanched and refreshed some of our salad vegetables. The caper garnish is a real secret treat !!
Ingredients
3 lbs fresh turbot on the bone.
1 cup capers
1/2 lb pure butter
1 zucchini flower
1 lb zucchini
1/3 lb organic fine beans
1/4 lb garden peas
1/2 lb organic garden potatoes
1/4 leek
1/4 lb garden leaves
2 cups burgundy white wine
1/3 lb samphire
1 shallot
2 bayleaf
1 cup fish stock
Directions
Split Capers ; Bring the butter to the boil and add the capers. Cook on a high heat until the caper 'splits'. Strain and set-aside the capers on some kitchen paper. Allow the liquid butter to settle and use the clarified butter sitting on top to coat the Turbot ready for roasting.
The Dressing ; Finely dice shallot, add to the wine with the bayleaf, totally reduce and add the fish stock, set-aside.
The Vegetables ; Blanch and refresh selected vegetables, remember not all your salads will need to be cooked this way. Place a pot of water onto the stove, cover and allow to come to a rolling boil. Prepare a large bowl with iced water. Blanch the appropriate vegetables (Samphire, fine beans and leek), refresh quickly to retain the nutrients and color. Set-aside.
The Turbot ; Pre-heat the oven to 350f, coat the whole Turbot with the clarified butter, season with salt and roast for 15mins. Allow to rest for five mins.
The Salad ; Whilst the Turbot is cooking you can prepare the warmed salad. Heat a large pan, add the dressing, add all the vegtables and quickly remove from the heat. Toss the pan to integrate the textures and flavors, season and set aside.
The Garnish ; The capers will now be crispy, finely dice some zucchini flower and combine.
To Plate ; Gently remove the skin from the Turbot, fillet with come nicely away from the bone, do not forget the cheeks, often the tastiest bit !! Spoon the warm salad onto the centre of the plate, check seasoning, add the fish fillets, squeeze some fresh lemon juice to add acidity to the dish and garnish with the split capers
Please remember; It's easy to replace any of the ingredients with what you have best locally.
We have served this dish with a Domaine du Château de Vergisson Pouilly-Fuissé 'Sur la Roche' 2015
Bon appetit!
Back to Recipes