Zucchini Flowers Stuffed with Salt Cod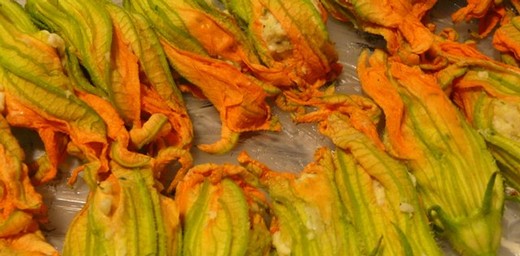 Recipe Date:
February 5, 2021
Measurements:
Imperial (US)
Everywhere we have been in Europe we have eaten baccala, salt cod, in some form or other. So we brought it home to Burgundy. Here we use it to stuff the zucchini flowers that are abundant in the garden right now. You should be able to buy salt cod that has been pre-soaked and is ready to cook. But if you are using unprepared salt cod, you will need to soak the fish for two days, changing the water a few times a day, before proceeding with the recipe. It is important that the vegetables in this stuffing be finely minced because if the dice is too large, stuffing the flowers becomes difficult.
Ingredients
1 lb salted cod
12 zucchini flowers (use more if small)
1 onion
1 zucchini
1 potato
1 egg
2 cups toasted breadcrumbs
olive oil
1 oz fresh parmesan (use two pinches of dried if you can't find fresh)
3 tbsps chopped parsley
1/2 cup cream
Directions
Rinse the cod well and put into a large bowl or pot that fits in your refrigerator. Cover with plenty of cold water and let the fish soak for 36-48 hours, changing the water 3 or 4 times during this period. This will reconstitute the fish and remove excess salt.
If sandy rinse the flowers and pat dry with paper towel. Remove the stamen if you like but it is not necessary.
In a small sauté pan over low heat cook the onion and zucchini in 2 tablespoons of olive oil.
Season the vegetables with salt and pepper and cook until softened and cooked through. Let cool.
In another small pan cook the potato covered with water until done. Drain and let cool.
Peel the skin from the potato and finely dice the flesh.
In another pan bring the salt cod covered with cold water to a boil. Remove from the heat and let the cod cool slightly in the water. When cool enough to handle, skin, pick over for bones cut the cod into a very small dice.
In a mixing bowl mix the zucchini, potato and cod gently. Beat the egg and add it to the mixture with the parmesan, parsley and cream.
Preheat the oven to 400°F/200°C. Brush a baking dish or tray large enough to hold the flowers in one layer with some olive oil.
Carefully open the flower and insert the cod mixture a teaspoonful at a time, using 3 or 4 teaspoons of the mixture per flower. Gently squeeze the opening closed. Arrange the stuffed flowers in the prepared baking dish. Sprinkle over the bread crumbs that have been mixed with oil and bake the flowers uncovered for 25 minutes until puffed and golden. Serve hot as they are or with a fresh tomato sauce if you like.
Back to Recipes