Wild French Squab, Pan-Seared Breast and Pie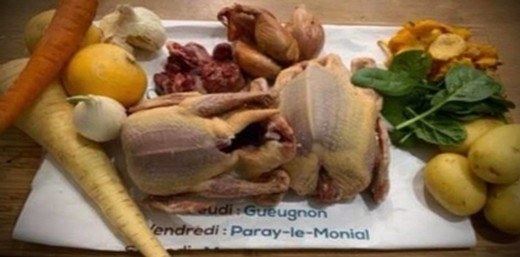 Recipe Date:
January 13, 2021
Measurements:
Imperial (US)
It is important to note that different cuts of a game bird cook and different rates. Therefore the breasts can be cooked separately and quickly compared to the legs which often need a longer slower cooking technique. In this recipe we made some suet pastry for a pie, the filling is root vegetables, squab leg and offal. The breasts are simply pan-fried to retain flavor and texture. It is possible to substitute the squab for many other game birds (pheasant, woodcock, grouse, duck)
Ingredients
8 ozs plain flour
2 ozs lard
2 ozs butter
1/2 cup iced water to bind the pastry
1 onion
1 stick celery
1 carrots
1/3 bottle burgundy red wine
1 sprig rosemary
2 bayleaf
2 garlic bulbs
4 shallot
1/3 lb chanterelle mushroom
1 navet
1 parsnip
1/4 pumpkin
2 potato
1/4 lb spinach
1 carrots
2 bulbs garlic
Directions
To make the suet pastry ; Crumb the butter and lard into the flour and bind with the ice cold water until you reach the desired consistency. Rest in a fridge for an hour, then line your pie tin.
The Squab ; Butcher the birds, seperate the breasts, remainder of meat and carcuss from the rest the bird (you can ask your butcher to do this)
To make the jus for the pie ; Sauté off onion, celery, carrot, rosemary, bayleaf, carcuss and add Burgundy red wine, simmer for 1hr, set aside.
The pie filling ; Sauté off the squab meat and chopped shallot, add all the other vegetables (finely diced), add the jus.
Add the filling to the pie cover with a pastry lid and bake for 40mins at 225f, allow to rest.
Pan fry the breats for 2 mins each side, allow to rest.
To serve, a generous slice of pie, a slice of pan-fried breast, with a glass of Red Burgundy.
Back to Recipes