Warm Vine Peach Soup with Irancy Wine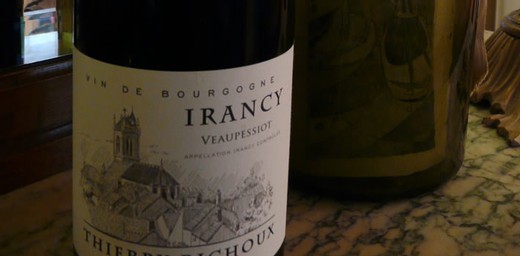 Recipe Date:
February 5, 2021
Measurements:
Imperial (US)
Peche de Vigne is a variety of red-fleshed, late-ripening, flavorful peach. Called such because it's sometimes grown among the vines, it also goes by the name 'peche sanguine' or 'blood peach'. Not too sweet, with a slight bitter edge, it has a unique cooking quality. Used in a savory preparation, it makes a nice accompaniment to game birds, for example.
Ingredients
8 ripe, firm blood peaches
4 tbsps unsalted butter
1/2 cup granulated sugar
2 cinnamon sticks
1 cup Irancy wine (or light Pinot Noir)
Fresh mint for garnish
1 quart vanilla ice cream (optional)
Directions
Soupe aux Peches de Vigne a l'Irancy
Blanch the peaches in boiling water for 2 minutes; you will notice they have very fuzzy skin. Remove the skins and quarter the peaches. In a sauté pan melt 2 tablespoons of the butter and add the peach quarters; sprinkle with a little sugar and cook until lightly caramelized, 5 minutes or so. Remove to a plate and reserve.
In the same pan melt the rest of the butter add the remaining sugar and the cinnamon stick. Deglaze the pan with the Irancy wine. Reduce by half; then return the peaches to the pan to heat through. Serve in a warm bowl with some cookies (like almond tuiles) and scoop of vanilla ice cream if you like.
Back to Recipes