Warm Fava Beans and Peas with Goat Cheese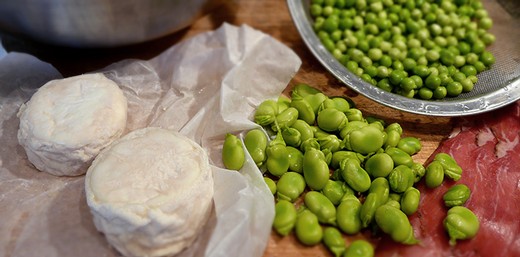 Recipe Date:
April 25, 2020
Measurements:
Imperial (US)
This simple springtime salad should be made from garden fresh vegetables at their peak. Use top quality extra virgin olive oil, fleur de sel salt and freshly ground quality pepper to make the ingredients sing. Crottin de chevre are small, round, goat's milk cheeses that range from soft and fresh to aged and dense (hence the name: look it up!). Here in Burgundy most goat's cheese comes from the Morvan natural park, with some produced further south near the Beaujolais region. The upper reaches of the Loire valley also have an important production. Look for a semi-fresh cheese, what the French call mi-sec, that has developed a white crust, but is still tender to the touch. At this stage they are perfect for baking. Another variation of this peasant-style salad replaces the goat's cheese with a poached egg.
Ingredients
2 cups shelled and skinned fava beans
2 cups shelled peas
2 scallions, thinly sliced
6 thin slices proscuitto or other cured ham
6 crottin de chevre
Extra virgin olive oil
Fine sea salt
Freshly ground black pepper
Directions
Preheat the oven to 375° F.
Bring a large saucepan of salted water to the boil.
Bake the crottin on a non-stick baking tray for 10 -12 minutes until soft and semi melted. Keep warm.
While the cheese is baking, heat a large non-stick sauté pan over high heat and drizzle in a little olive oil. Sauté the ham slices for 1 minute on each side until crispy and reserve on paper towels to remove any excess fat.
Cook the fava beans and the peas in the salted water until just tender and then drain.
On six warm plates scatter the fava and peas. Sprinkle over the spring onions and season with salt, pepper and olive oil. Place the cheese baked-side facing up on the salad. Break the ham slices into large pieces and place on the salad. Serve warm.
Back to Recipes