Warm Citeaux Salad with a Walnut and Verjus Vinaigrette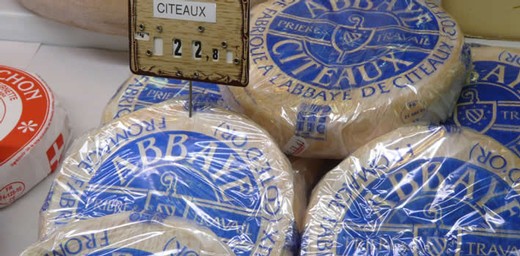 Recipe Date:
April 25, 2020
Measurements:
Imperial (US)
Made by the monks at the Abbey of Cîteaux near Nuits Saint Georges, Cîteaux is one of our favorite Burgundy cheeses. Made from organic cow's milk, it has a true taste of green pastures. Verjus is made from the juice of unripe grapes, and is often used in Burgundy in place of vinegar. It makes an interesting vinaigrette. We also use it for deglazing a pan after sautéing foie gras or to make a sauce after roasting a guinea hen or farm chicken. If you can't find Cîteaux (its production is positively Burgundian in scale), a good farm-made reblochon is a similar.
Ingredients
1 bowl mâche (lambs lettuce) cleaned and spun dry
1 bunch of white grapes cut in half and seeded
3/4 cup lightly toasted fresh walnuts
2 shallots minced
1 tbsp verjus (or white wine vinegar)
2 tbsps walnut oil
1 tbsp grape seed or canola oil
Fine sea salt
Freshly ground black pepper
6 slices of sourdough bread, cut in half
1/2 of a Cîteaux cheese
Directions
Preheat the broiler.
Put the mâche, grapes and walnuts in a salad bowl. Make the vinaigrette by whisking together the shallots, verjus, walnut oil, canola oil, salt and pepper. Lightly toast one side of the bread pieces on a baking tray under the broiler. Turn the bread over and top with slices of the Cîteaux cheese. Place the cheese under the broiler until bubbly and lightly browned.Toss the salad with the vinaigrette. Divide the salad among 6 dinner plates. Top with the Cîteaux croûtes and serve.
Wine pairing with Warm Citeaux Salad
There are certain cheeses that bring out the best in wine, and vice versa. Cîteaux is one of these: red or white, oaked or mineral, delicate or gutsy, all of Burgundy wine goes with Cîteaux; and Cîteaux tastes better with wine: you can hardly go wrong! But if we have to choose, let's go with something elegant! The Domaine Jean Fery Morey Saint Denis is ripe and luscious.
Back to Recipes