Venetian Pea Risotto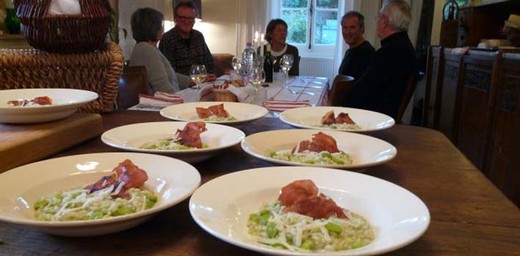 Recipe Date:
February 6, 2021
Measurements:
Imperial (US)
In the Veneto, risotto tends to be looser and juicier, usually based on fish or shellfish. The rice of choice is vialone nano, a shortish-grained semifino appreciated for its soft texture and great absorption. Good quality vialone nano will triple in size when cooked, yet retain an appreciable bite. Risi e Bisi, local dialect for rice and peas, is one of the beacon dishes of Venetian cooking. When the risotto is nearly done, you will add a vibrant green stock made from some of the peas. The color is sublime and the taste, pure springtime. We also make this with fresh favas when they are young and tender.
Ingredients
1 lb fresh peas in the pod
2 tbsps unsalted butter
2 tbsps extra virgin olive oil
1 small onion finely minced
1 1/2 cups Italian risotto rice, preferably vialone nano or other arborio
1/2 cup dry white wine
8 cups homemade chicken or vegetable stock
1/2 cup grated parmesan cheese plus a few shavings to finish
2 tbsps softened unsalted butter to finish the rice
fine sea salt
Directions
Shell the peas.
Put 1 cup of the stock in a small saucepan and bring to a boil. Add a third of the peas and cook for 8 minutes. Remove from the heat and blend in a mixer or with a hand-held immersion blender until coarsely pureed. Season with salt to taste and reserve.
Heat the remaining stock in another saucepan and bring just to a simmer.

In a large heavy-bottomed sauté pan melt the butter in the olive oil over medium heat. Add the onion, stirring, and sauté until translucent. Add the rice and stir to coat the rice well with the onion and fat. After 4 minutes or so add the wine and let it bubble up for a minute or two. Add the remaining raw shelled peas and ladle in some simmering stock just to cover the rice. Reduce the heat and stir occasionally (too much stirring makes the risotto gummy). Add more stock when air holes start to appear and make sure that the rice is always covered with a thin film of stock. Stir from time to time to keep the rice from sticking and season with salt. It should cook at a fairly brisk bubble.
When the rice is nearly done, but firm to the bite, gently reheat the reserved pea stock. Add it to the risotto to loosen the texture. This is served much like a soup in the Veneto, so add a little more stock if needed. Remove from the heat and add the softened butter and grated Parmesan. Season to taste with salt. Serve the risotto immediately in warm bowls topped with a few shavings of parmesan.
Back to Recipes