Spring Salad with Garlic Cream, Poached Egg and Ham Powder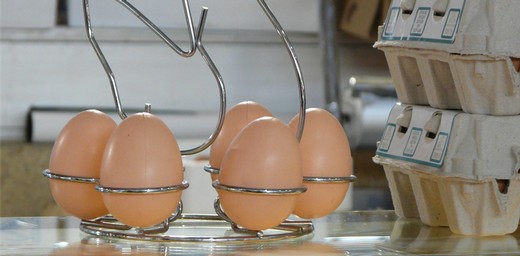 Recipe Date:
March 29, 2013
Measurements:
Imperial (US)
Assiette de Printemps a la crème d'Ail et a L'oeuf Poché We make this salad when the season's first fresh peas and fat white asparagus stalks arrive on market stalls. A perfect Sunday brunch dish! It may seem a strange idea to puree prosciutto ham to a powder, but it really does add a unique texture and flavor to this dish.
Ingredients
18 small baby carrots
fresh small white spring onions
plump green or white asparagus stalks
2 cups fresh shelled peas
1 cup fresh fava beans
2 tbsps unsalted butter
Fine sea salt
6 large, very fresh eggs
Fresh chives or chervil for garnish
4 plump garlic cloves, peeled
Fresh thyme sprigs
1 cup heavy cream
1 cup milk
4 anchovy fillets
2 thin slices prosciutto type cured ham
Directions
In a small saucepan, bring the cream, milk, thyme and garlic cloves to a boil. Reduce the heat and cook at a gentle simmer for 20 minutes stirring occasionally. Add the anchovy filets and cook for and additional 5 minutes. Strain the sauce through a fine sieve pressing on the garlic cloves. Return to the pan and reheat gently when ready to serve.
In a dry non-stick sauté pan, cook the ham slices until crispy. Remove to paper towel and let cool. When cold break the ham into pieces and put into a blender and mix to a fairly fine powder.
In a large sauté pan with lid, melt the butter. Remove from the heat and set aside. Meanwhile in a large pan bring 3 quarts of salted water to a boil for cooking the vegetables.
Prep the vegetables: Peel the baby carrots. Trim the roots and remove the outer skin from the onions. Peel the asparagus and break off the bottom ends. Slice the remaining stalk into two or three pieces. Pod the peas and peel the outer skin off of the fava beans.
Start by cooking the carrots for 5-7 minutes in the boiling water until they are tender. Remove with a slotted spoon and reserve in the pan with the melted butter, cover to keep warm. Add the onions and asparagus to the water and cook until tender. Remove them and add to the carrots. Lastly add the peas to the water and cook for 3 minutes then add the fava beans and cook for an additional two minutes. Drain the peas and favas and add to the other vegetables. Season the vegetables lightly with sea salt and cover the pan to keep warm.
Poach the eggs in plenty of unsalted water with a good splash of white wine vinegar.
Warm six shallow bowls or plates. In the center of each plate place a few tablespoons of the warm garlic and anchovy cream. Divide the vegetables among the plates. Top the vegetables with the poached egg and sprinkle over and around the edge of the plate the powdered ham. Garnish with snips of fresh chive or sprigs of chervil and serve warm
Back to Recipes