Spring Lamb with Seasonal Vegetables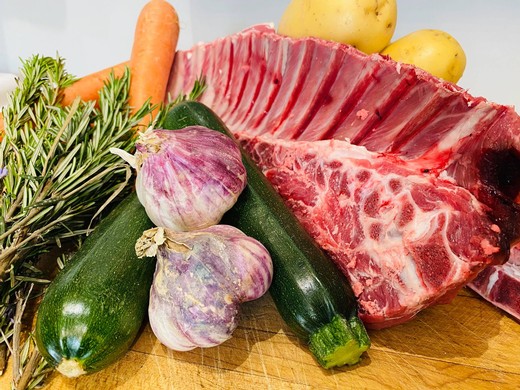 Recipe Date:
April 7, 2021
Measurements:
Imperial (US)
This recipe can be a challenge, even for experienced cooks. However, if mastered it is an impressive dish. Part of the Rack is de-boned and wrapped in a trio of vegetables, poached and pan-fried along with the remainder of the Rack. Served with a simple spring salad of goats cheese, wild garlic, white asparagus, watercress and pine nut.
Ingredients
2 whole lamb rack, trimmed but not portioned.
2 garlic cloves
2 tbsps fresh finely chopped rosemary
4 tbsps wholegrain mustard
4 tbsps olive oil
2 courgette
3 large carrot
3 large potato
1 lb watercress
1/2 lb wild garlic
8 ozs freshly toasted pine nuts
4 large fresh white asparagus
1/2 lb fresh soft goats cheese
olive oil
chardonnay vinegar
Directions
Prepare the Rack ; Count four ribs from each rack (choose from the side) Cut and set aside. Remove the remainder of the two loins from the bone and trim. Finely mince the garlic, add the rosemary, mustard and oil, rub onto the loins and allow the marinate for 1 hour.
Prepare the courgette, carrot and potato using the finest setting on a vegetable spiralizer, wrap the loin in the same order. First the courgette, then carrot and finish with the potato. Wrap very tightly in cooking grade cling film and twist the ends creating a uniform shape. Poach at 160f for 20mins (adjust this time depending the thickness of the vegetables) Set aside to rest.
Prepare the salad, wash the leaves, finely chop the garlic, toast the pine nuts on a dry pan, peel the asparagus, blanch and refresh 'al dente'. Mix and set aside.
On a medium hot pan, cook the lamb loin (now wrapped in vegetables) along with the racks until both are to your taste. Medium-rare is our recommendation.
To Plate ; Dress the salad with oil and vinegar, cut the goats cheese, slice the lamb vegetable roulade and allow 2 ribs per portion.
This dish is a challenge so please check out our YouTube channel for an example of this recipe in video.
Back to Recipes