Smoked Mackerel Rillettes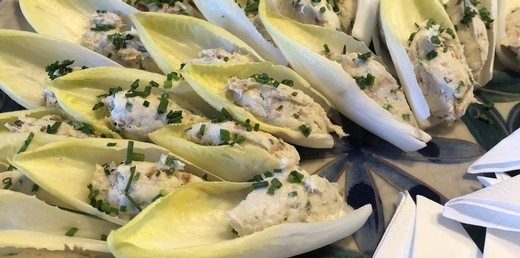 Measurements:
Imperial (US)
There are many ways to serve this smoked mackerel Rillette. Cucumber rounds, lightly toasted dark bread, endive spears as shown in the photo or served as a starter with a tossed green salad. Once made chill the mixture for an hour before serving.
Ingredients
8 ounces / 1 cup of picked over smoked mackerel
2 tablespoons softened unsalted butter
3 tablespoons minced chives
1 teaspoon sherry vinegar
1 medium shallot minced
juice 1/2 lemon
freshly ground black pepper
1/3 cup heavy cream
Directions
In a small bowl with a fork blend the mackerel with the softened butter. Add the chives, vinegar, shallot, lemon juice and black pepper. In another bowl whip the cream to soft peaks and gently fold into the mackerel. Chill for an hour before serving.
Back to Recipes