Skate, Mussel & Fennel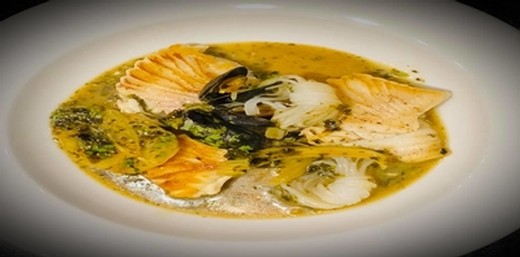 Recipe Date:
June 23, 2021
Measurements:
Imperial (US)
Seafood Broth infused with ginger, garlic, seaweed, mirin, soybean, coriander and lime. Served with poached mussels, noodles, fennel and Skate.
Ingredients
3 pints good fish stock
1/2 bottle white burgundy wine
1 small bulb ginger, grated
3 bulbs garlic, grated
1 red onion, finely chopped
3 tbsps blitzed wakame seaweed
1 fresh fennel, roughly sliced
3 limes, juiced
1/2 cup mirin
1 tsp soybean paste
1 lb fresh mussels
12 pieces, tied rice noodles
12 pieces, deboned skate
Directions
Fish Stock ; Buy good quality or make your own by asking your fishmonger to fillet the Skate and then use the bones + vegetables to make your own.
For the Broth ; Reduce the wine by 3/4 add the fish stock and reduce by 1/2. Pour into a large shallow pan. Add the fennel and poach until tender (10 mins) Add, garlic, ginger, onion, seaweed, lime juice, soybean paste, mussels, mirin and noodles. Gently allow the flavors to infuse and the mussels to open, this should only take 4-5 mins on a low heat.
Using a seperate pan, season and lightly oil the fish. Sear on a high heat, just on side. Add the fish to the broth, seared side up. Turn off the heat and allow the cooking to continue gently for about 2 mins.
To serve, check seasoning, usually just some pepper is needed. Spoon a selection of all elements onto a pasta style plate. Enjoy with a full bodied White Burgundy.
Back to Recipes