Sauté of Cuttlefish with Black Rice and a Parsley Vinaigrette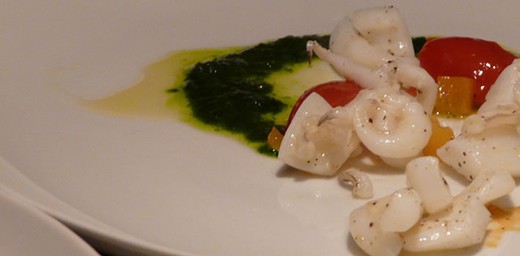 Recipe Date:
February 6, 2021
Measurements:
Imperial (US)
The wildly popular black riso venere is a modern hybrid rice from the Piedmont region of Italy. It is a cross between asiatic rices, grassy and pungent. Look for rice labeled integrale (whole grain) which needs 40-45 minutes of cooking, and is well worth the wait. There is a par-boiled version out there which has a cooking time of about 18 minutes, but with nowhere near the flavor. The parsley vinaigrette is clean and vibrant green. Use flat-leaf parsley if you can, and add the olive oil slowly when blending for a smooth creamy sauce.
Ingredients
2 cups loosely packed, picked flat-leaf parsley leaves
1 small clove garlic
1/2 cup extra virgin olive oil
fine sea salt to taste
1 cup riso venere
3 tbsps extra virgin olive oil
1 small onion minced
1/2 cup dry white wine
5 cups fish or vegetable stock
4 tbsps extra virgin olive oil
3 cloves garlic minced
1 tsp crushed red pepper flakes or peperoncino
2 cups small cherry tomatoes
1 lb cleaned small cuttlefish or squid cut into 1 inch pieces
fine sea salt
Directions
In a blender or with a hand-held immersion blender, puree the parsley and garlic. Add the olive oil in a slow steady stream. Season to taste with sea salt and cover with plastic wrap until needed.
In a heavy bottomed saute pan heat the 3 tablespoons of olive oil and sauté the minced onion seasoning with salt and pepper until softened. Add the wine and let bubble for a couple of minutes cooking off the alcohol. Add the rice and stir to coat with the oil. Cover with the warm stock and bring slowly to a boil. Reduce the heat to a simmer stirring from time to time. After 35 minutes, check and continue to cook if needed for another 5 minutes or so. Season with salt to taste. Cover to keep warm.
In a large, wide heavy-bottom sauté pan slowly heat 2 tablespoons of the olive oil with the garlic and pepper flakes. When the garlic starts to turn golden, add the cherry tomatoes. Cook until the tomatoes start to burst. Season to taste with sea salt. Reserve warm. In another large sauté pan heat the remaining 2 tablespoons of oil over a high heat until almost smoking. Add the cuttlefish and sauté until it is just cooked, maximum 2-3 minutes. Season with sea salt.
Add the tomatoes to the rice and fold in gently.
On warm serving plates, put a couple of tablespoons of vinaigrette on one side and a small mound of the rice on the other and scatter the cuttlefish around the rice. Serve warm with a wedge of lemon.
Back to Recipes