Salt Crusted Baked Burgundian Chicken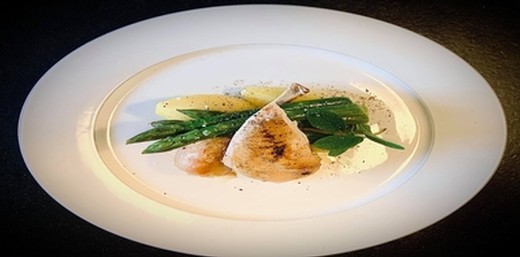 Recipe Date:
September 1, 2021
Measurements:
Imperial (US)
The crust is really just a heavily salted dough that draws out some liquid, adding flavor and intensity. This can be used with both meat, fish and vegetables. No problem to substitute the vegetables for the best quality you can find.
Ingredients
2 lbs plain flour
1 lb coarse salt
7 ozs ground salt
5 lbs free range chicken
2 egg whits
1 pint iced water
1 bunch fresh asparagus
2 lbs fresh potatoes
Directions
To make the Salt Dough ; Mix by hand both salts and the flour. Add the egg whites and enough iced water to bind. Rest for 20mins.
Cover the chicken with the dough and bake in a pre-heated oven, 400f, for 1hr 30min, check that the juice runs clear at the joint of the leg.
Allow to rest and carefully remove the crust, de-bone the chicken, prepare the vegtables and serve.
Back to Recipes