Pissaladiere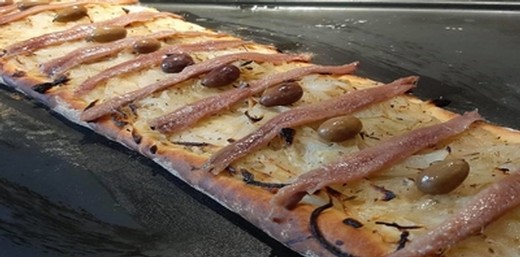 Measurements:
Imperial (US)
This traditional onion and anchovy tart is found along with Fougasse and other savory pizzas in boulangeries throughout southern France. Quality anchovies and small Nicoise olives decorate the slow cooked herb and onion base. Perfect summer lunch with green salad and chilled Rose wine. You will need to let the dough rise for an initial hour and then again on the baking tray for 30 minutes before baking.
Ingredients
8 oz plain flour
1 egg, beaten
3/4 teaspoon salt
11/2 teaspoons dried yeast, or 1/2 oz fresh yeast
Approximately 3 fl oz warm water
Olive oil
3 lbs onions, thinly sliced
Salt and fresh black pepper
2 large pinches of herbes de provence or a mixture of thyme, rosemary and oregano, chopped
20 anchovy filets in olive oil
Black olives or black olive pieces
Directions
Make the bread dough: Put the flour into a large bowl and make a well in the center. Beat the egg and salt together and put into the well. Put the yeast, sugar and water in a bowl and leave until it froths. Gradually stir the yeast mixture into the flour, mixing it in with your fingers to form a soft dough ball. Add a little flour if it is too sticky and knead well with your hands for 10 minutes until the dough is smooth and elastic. Put a little olive oil on the dough, cover with a damp cloth and leave to double in bulk.
While the dough is rising make the filling. Heat 1/4 cup of olive oil in a heavy bottomed pan with lid. When the oil is warm add the thinly sliced onions and season with salt. Turn heat to low and cover the pot with a lid. Check the onions from time to time to make sure they don't brown and stick. When softened add the herbs and pepper. Continue to cook until the onions are meltingly soft about 45 minutes in total.
Pre-heat the oven to 375ºF. Lightly oil a baking tray and shape the dough either with your hands or a rolling pin into 2 rectangles or one large one that fills the tray. Spread the onion mixure over the dough and let rise for 15-20 minutes. Slide the baking tray into the oven and bake for 25 minutes. Remove from the oven and decorate with the anchovies and olives in either a lattice pattern or as done in the photo. Return the tray to the oven and bake for an additional 5-10 minutes until the base is cooked. Serve warm or at room temperature.
Back to Recipes