Pike-Perch with Black Trumpet Mushrooms and Artichoke Sauce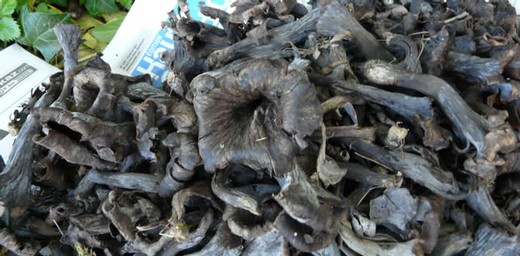 Recipe Date:
February 6, 2021
Measurements:
Imperial (US)
Sandre is arguably the finest of the fresh water fishes. It got its English name (though the English themselves also call it 'zander') because it looks like a perch and hunts like a pike. It also has the blue-white flesh of the perch and the flavor of the pike, but without the millions of little bones. If you can't find the 'pike-perch', substitute a delicate white-fleshed fresh-water fish such as perch, or walleye pike.The 'trumpets of death' (as the French translates) are the dark brown to almost black craterellus mushroom. I've seen them called 'horn of plenty' or 'black trumpets' in English. They are plentiful, fairly inexpensive and incredibly tasty. I like to serve the fish on a bed of braised leeks and Belgian endive (recipe below). This is a recipe that will support a dry, steely white or a light, fruity red. I think Chablis goes really well yet at the same time, I do like a light Pinot with some of these flaky fresh-water fish. Why not try both as an experiment? It's astounding how much a wine can effect your appreciation of a dish. We suggest you try either the Chablis 1er Cru 'Mont de Milieu' from Domaine William Nahan or the Jean-Jacques Girard's Bourgogne either would a beautiful companion to this dish.
Ingredients
8 firm fresh Jerusalem artichokes scrubbed and peeled
2 cups water
Pinch of fine sea salt
Ground white pepper
Fresh chives or chervil minced
3 tbsps heavy cream
3 tbsps unsalted butter
2 tbsps extra virgin olive oil
1 cup seasoned all-purpose flour
2 lbs sandre filet, de-boned, skinned and cut into six portions
1 lb trompette mushrooms, bottoms removed and picked over
2 tbsps unsalted butter
Fine sea salt
Freshly ground black pepper
3 medium leeks
4 Belgian endive spears
2 tbsps unsalted butter
Fine sea salt and white pepper
Directions
Slice the artichokes and put them in a small saucepan with the water a pinch of salt. Bring to a boil and then simmer for 10 minutes. Puree in a mixer or with a hand held immersion mixer. Season with white pepper and salt to taste, and reserve warm.
In a large heavy-bottomed sauté pan heat the butter and oil until foaming. Dredge the fish pieces in the seasoned flour patting off the excess flour with your hands and put them in the sizzling hot fat. Sauté until browned nicely on one side; carefully turn with a spatula, trying not to break up the pieces.
If the mushrooms are gritty, dunk them in a large bowl of water and remove immediately and drain on paper towel. If they are fairly clean just wipe them with wet paper towel. While the fish is cooking, in another sauté pan cook the mushrooms in butter and season to taste.
Reheat the sauce and add the heavy cream. With a hand-held immersion mixer, blend again to foam the cream, or whisk until frothy. Taste for seasoning and add the minced chives or chervil.
When the fish has browned, squeeze a little lemon juice over each piece.
On six warmed shallow bowls, place a bed of the leeks and endive. Top with a piece of the fish and then the mushrooms. Put a few tablespoons of sauce around and garnish with chive sprigs.
For the braised leeks and endive:
Remove most of the dark green top of the leeks. Cut them on an angle into ½ inch slices. Soak in a large bowl of cold water to remove any grit. Rinse the endive and slice into 1 inch pieces lengthwise. Push out and discard the hard inner core.
Bring a medium saucepan of the lightly salted water to a boil and add the leeks and endive. Let blanch for 2 minutes then drain. Add the butter to the warm saucepan. Return the vegetables and season. Cover and reheat the vegetables when ready to serve.
Back to Recipes