Marinated Sirloin Beef Salad with Anchovy Dressing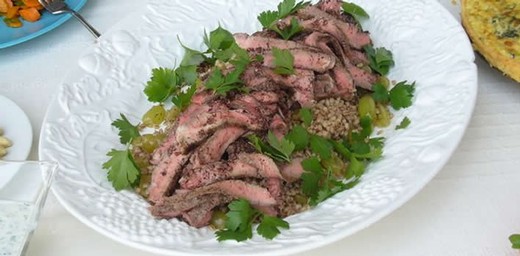 Recipe Date:
April 25, 2020
Measurements:
Imperial (US)
Salade de Faux Filet aux Anchois This beef salad has a tang from red wine vinegar and anchovy, and spicy character from cinnamon and nutmeg. A twist on traditional salsa verde! Marinating the beef ahead will allow the spices to impregnate and flavor the meat. Searing the meat over a hot fire or on a heavy preheated griddle is important to seal in the juices and caramelize the spices. Let the meat rest for 10 minutes before slicing it thinly against the grain. For the anchovy sauce, I prefer to use salted anchovies, but you can also use anchovies packed in oil. Serve the beef with roasted peppers and maybe a green couscous salad.
Ingredients
2 lbs sirloin cut into 1 inch thick steaks
2 tbsps red wine vinegar Juice of a lemon
1 tsp nutmeg
1 tsp cinnamon
3 garlic cloves crushed
8 salted anchovy filets, rinsed and de-boned
Freshly ground black pepper
2 thick slices of day-old rustic bread, crust removed, dipped in water and squeezed dry
2 tsps Dijon mustard
1 small handful fresh mint leaves
1 large bunch picked fresh parsley leaves
A few sprigs fresh tarragon or dill
1/2 cup extra virgin olive oil
Freshly ground black pepper
Directions
Put the steaks onto a large flat platter and rub the marinade ingredients all over the meat. Let the meat sit with the marinade for a half and hour. Rub the steaks with a bit of olive oil just before grilling. Make sure your fire or griddle is hot so the meat sears.
Cook the steaks to medium rare. Remove from the heat and let the meat rest while you prepare the sauce.
Make the anchovy sauce by putting all the ingredients except the olive oil in a food processor. Process for 1 minute; then add the oil in a thin steady stream until well emulsified. Stop. Taste for seasoning and add more salt and pepper if necessary.
With a sharp knife, cut the steaks into thin slices and serve with the sauce on the side.
Wine pairing
These flavors almost cry out for a Santenay red, Pinot Noir with punch. Shop our Côte de Beaun region.
Back to Recipes