Gratin of Zucchini Flowers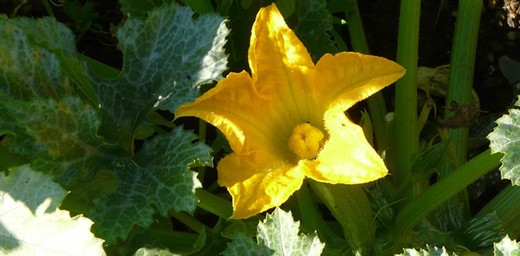 Recipe Date:
October 21, 2019
Measurements:
Imperial (US)
The garden rules the seasons. So summer has officially begun here in Burgundy: we cut the first zucchini a little while back. We take the earliest ones no larger than a finger, and the young plants seem to love it, bursting with vigor and momentum. Four plants are enough for us, giving more zucchini than we could ever eat, and almost enough blossoms. Though still a bit of a curiosity in much of France, throughout Italy zucchini flowers are abundant for much of the year, and turn up in some ingenious preparations. For us they bring a touch of delicacy and exoticism, an element of surprise in even the simplest dishes. We've eaten and prepared them in every Italian region that we have visited, and we have a collection of our favorite recipes that will feature as a chapter in the forthcoming Italian book. But first, a little practical information. In English, when we talk about 'zucchini blossoms' we generally mean the flowers of the dark-skinned summer squash. But in Italian, 'fiori di zucca' is a more general term, and includes flowers from a number of other members of the same genus (curcurbita), most notably the pumpkins. The main difference, for our purposes in the kitchen, is the size of the flower. Any squash or pumpkin flower large enough to stuff will do. All curcurbita species produce both male and female flowers, and we would use either in these recipes. However, choose male flowers if you can; they are larger and easier to manipulate. The male flower grows on its own long stem, and will last several days on the plant until eventually withering. The female flower grows at the tip of a set fruit, and will stay attached for a few days before dropping off as the fruit begins to swell. It's important when and how flowers are harvested. If your plants are vigorous, take just male flowers, always leaving enough to ensure fertilization. And if you have tons of flowers, take females that have tiny zucchini still attached and serve them battered and fried. Pick flowers in the morning when they are partially open. You do not want flowers that are fully open; they will be difficult to close. But pick too late in the day and they will close up completely. Cut them young while they still have verve, before the edges go floppy. And leave a good long stem. The stem makes them easier to handle in certain recipes, and they're tasty too! Check the inside of the flowers for bugs. Bees and ants love zucchini blossoms. If you need a quantity of flowers, you can collect them over a few days. Place the cut flowers gently in a zip-lock bag with a damp paper towel and refrigerate them until you have enough. They will last better this way than on the plant. If you like, you can remove the stamen or pistil, but it's not necessary. They are perfectly edible.
Ingredients
12 Zucchini flowers
8 ozs (225 grams) Mozzarella cheese
12 Anchovy fillets packed in oil
12 Cherry tomatoes split in half
12 Fresh basil leaves
1/2 cup (50 grams) Plain breadcrumbs
3 tbsps (45 ml) Extra virgin olive oil
Fine sea salt
Freshly ground black pepper
Directions
When ready to bake the flowers preheat the oven to 425°F/220°C.
Cut the mozzarella into 2 inch long sticks. Rinse the flowers and pat dry. Take the flower and gently open with your fingers. Remove the stamen if you like, but it is not necessary. Insert the mozzarella, anchovy filet, tomato halves and basil leaf into the center of the flower.
In a small bowl combine the breadcrumbs with the olive oil and season with salt and pepper. Lightly oil a baking tray or dish that will hold the flowers in one layer. Sprinkle half the crumbs over the bottom. Place the flowers on top. Sprinkle over the other half of the crumbs.
Drizzle a little oil over the flowers bake in the hot oven for 10-15 minutes until browned. Serve warm.
Back to Recipes