Goats Cheese Tart with Spinach, Hazelnut and Cranberry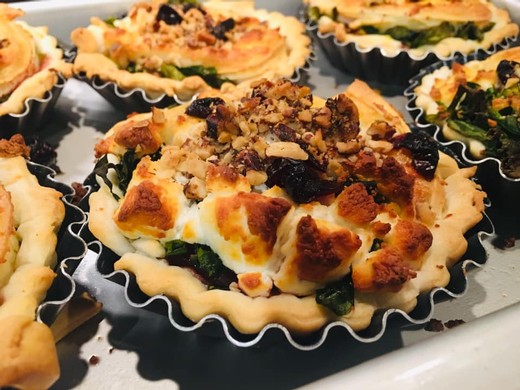 Recipe Date:
November 19, 2020
Measurements:
Imperial (US)
Ingredients
16 ozs plain flour
7 ozs diced butter
pinch of salt
1 lb best quality goats soft cheese
10 ozs roasted hazelnuts
8 ozs fresh spinach (roughly chopped)
1 cup red onion (finely sliced)
1 cup cranberry jelly
8 ozs fresh cranberries
Directions
Pastry:
STEP 1: Sieve the plain flour into a large bowl add the diced butter and rub in with your fingertips until the mixture resembles fine breadcrumbs.

STEP 2: Stir in a pinch of salt, then add 2-3 tbsp water and mix to a firm dough.

STEP 3: Knead the dough briefly and gently on a floured surface.

STEP 4: Wrap in cling film and chill.

STEP 5: Grease 6 individual tart cases and set aside in the fridge.

Filling:
STEP 1: In each tartlet case add (in this order) spinach, red onion, cranberry jelly, large crumble chunks of goats cheese hazelnuts and fresh cranberries.

STEP 2: Heat your oven to 375F and bake for 20mins, slightly cool and serve.
Back to Recipes