Goats Cheese Espuma with Garden Summer Salad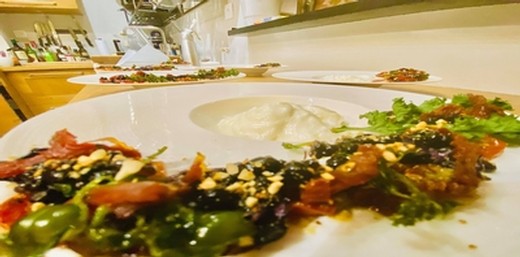 Recipe Date:
July 26, 2021
Measurements:
Imperial (US)
The Goats Cheese espuma is really simple to make if you follow this recipe. Once mastered you can amend the flavors as you desire. All the salad ingredients come from our garden. I would encourage you to check out (and subscribe) to our YouTube channel for videos of this and other recipes. We paired this dish with a full bodied white Burgundy wine, Domaine Jean-Baptiste Ponsot Rully
Ingredients
1/4 cup cream
1 1/2 cups milk
7 ozs goats Cheese (the rind only is good)
2 bayleaf
4 basil leaf
1 tsp whole white peppercorns
2 leaf gelatine
2 ozs toasted, crushed cashew nuts
18 oven dried basil leaves
6 oven dried kale leaves (small)
6 fresh cherry tomatoes
1/4 cup pesto
1/4 cup balsamic vinegar glaze
Directions
The Espuma ; Warm the cream and milk, add in the roughly chopped goats cheese, add the bayleaf, basil and peppercorns. Simmer very gently for 20mins to infuse the flavor.
Soften 2 leaves of geletine in some iced water.
Finely strain the infused milf/cream and add the geletine whilst still warm. Whisk gently and strain into a siphon cream gun. Shake very well and set aside in the fridge for a few hours.
The Salad ; Crush some cashew nuts, toast on a pan with no oil, set aside. Set your oven to 170f and on a none stick tray place sliced cherry tomatoes, small kale leaves, basil leaves. allow to dehydrate for at least an hour, until dry and crispy.
Bring 1/4 cup of balsamic vinegar to the boil, add 2oz sugar, gently stir and set aside to cool.
For the pesto, blend some olive oil, garlic, pine nuts basil leaves and parmasan cheese.
To Plate ; We use a very wide rimmed soup bowl. In the bowl we place the fresh sliced tomatoes and a teaspoon of balsamic vinegar. On the rime of the bowl we build the salad. The salad is cut small, so the dish is eaten with a spoon. To finish remove the siphon gun from the fridge, shake vigorously for 1 min then portion into the bowls. Season and serve with good quality french bread.
Back to Recipes