Fresh Apricot and Pistachio Cake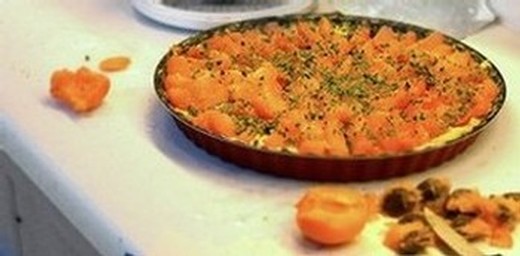 Recipe Date:
February 6, 2021
Measurements:
Imperial (US)
I love the combination of fresh apricot and raw green pistachio nuts. I often serve warm sautéed apricots with a scoop of pistachio ice cream for a quick simple dessert. In this recipe the nuts are coarsely chopped to line the baking pan and top the cake for a crunchy texture. The apricots melt into the cake batter when baked and remain juicy and delicious. And the color combination is beautiful.
Ingredients
1 1/2 lbs fresh apricots washed and split in half, pit removed
1 cup raw peeled green pistachio nuts
3/4 cup granulated sugar
2 sticks unsalted butter, softened to room temperature
4 large eggs
1 tsp vanilla extract
1/2 tsp fine salt
1 cup all purpose flour
1 tsp baking powder
Directions
Take out a 12 inch buttered cake pan.
Preheat the oven to 375°F.
Mix flour and baking powder.
If you need to skin the pistachio nuts, blanch them in boiling water for 5 minutes. Remove and rub the nuts in a kitchen cloth to remove the skins. Add the nuts to a processor and pulse chop for a coarse grind. Remove half the nuts and then continue processing the other nuts until you have a fine grind.
Sprinkle half the coarsely chopped nuts into the bottom of the buttered cake pan. Reserve the other half of the coarsely chopped nuts for the top of the cake. In a bowl beat the softened butter and sugar together until creamed. Add the eggs one at a time beating well after each addition and then add the finely ground nuts. Add the vanilla, salt and then the flour mixed with baking powder.
Pour the batter into the buttered cake pan. Cut each apricot half in half and arrange the cut apricots skin side down in the batter. Sprinkle lightly with sugar and the remaining coarsely chopped nuts. Bake for 45-50 minutes until lightly browned and slightly puffed. Serve warm or at room temperature with some cream fraîche if you like.
Back to Recipes