Fregola with Mussels and Parsley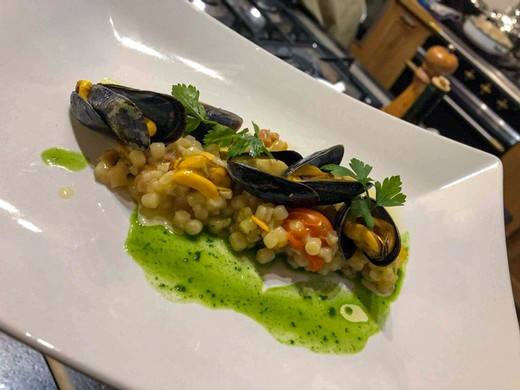 Recipe Date:
April 13, 2020
Measurements:
Imperial (US)
Sardinian Fregola, a toasted semolina pasta is traditionally served with shellfish, usually small clams. Here we use the tiny Moules de Bouchot, mussels from the French Atlantic coast, but use whatever mussels you find locally. You could also add small shrimp if you like. If you can't find Fregola, look for large pearl Israeli couscous. You'll need about 8 cups of warm vegetable stock.
Ingredients
3 cups cleaned parsley leaves
5 lbs cleaned mussels
Olive Oil
3 cloves of garlic sliced
red pepper flakes
1/4 cup water or dry white wine
1 yellow onion minced
2 stalks of celery mined
3 cups Sardinian Fregola
8 cups vegetable stock
1 cup small ripe cherry tomatoes
zest of 2 lemons
Directions
Bring a small pot of water to boil and blanch 2 cups of the parsley leaves for 30 seconds. Refresh under cold water. Put in a blender and puree with a ½ cup of water. Strain through a fine sieve and reserve the bright green parsley juice to add later.
Put 3 tablespoons of olive oil in a large heavy-bottomed soup pot or Dutch oven over medium high heat. Add the sliced garlic cloves and a pinch of red pepper flakes. Let sizzle, then add the cleaned mussels. Toss well in the oil. Add the ½ cup of wine or water and cover the pot. Stir the mussels after a couple of minutes, cover and cook until they just start to open. Don't overcook or they will be chewy. Lift the mussels out of the liquid into a bowl to cool. Pour the liquid into a measuring cup and let settle. When cool, pick the mussels and reserve. Any mussels that may not have opened you can add to the Fregola as it cooks.
Have your vegetable stock warm in another pot ready to ladle into the Fregola. The cooking is done in the style of making a risotto, adding broth a bit at a time.
Clean and return you heavy-bottomed pan to medium heat. Add a couple of tablespoons of olive oil and when warm add the minced onion. Salt and let sweat until softened. Then add the celery and the Fregola. Add a couple of ladles of stock to just cover the Fregola. Cook over medium heat at a good bubble stirring and adding more stock as needed. The Fregola should always be covered by a thin layer of bubbling broth. It will cook in about 15 minutes. After 10 minutes add the cherry tomatoes, any unopened mussels and the reserved mussel juice leaving behind the last bit of juice in case there is any grit. Cook a couple of minutes more. The Fregola should have a good bite but be tender in the middle, not mushy. Finish by adding the picked mussels, the lemon zest and the reserved cup of parsley coarsely chopped. The dish should be juicy but not soupy. Season with salt and pepper to taste and lastly stir in the parsley juice. Serve in warm shallow bowls. Drizzle over a bit more olive oil and good pinch of sea salt. Serve with lemon.
Back to Recipes