Fillet Steak with Burgundy Red Wine Glaze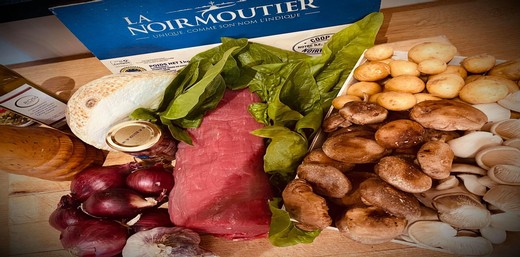 Recipe Date:
May 18, 2021
Measurements:
Imperial (US)
Pan-seared fillet steak, red wine and anchovy glaze, brunoise of celeriac, sauté of shiitake and oyster mushroom with garden spinach. Served with the rare La Noirmoutier island potatoes. The recipe is not difficult however there is a challenge in having all the elements ready at the same time. Everything is cooked on the stove together so warm your oven to 100f and use it to hold each element as it is ready.
Ingredients
4 aged fillet of beef steaks (approx 8oz each)
1/3 bottle of regional burgundy red wine
4 red onion
3 tbsps oyster sauce
2 tbsps balsamic vinegar
1 celeriac
6 anchovies
4 ozs milk
4 ozs cream
2 bulbs of garlic
1 bayleaf
4 ozs shiitake mushroom
4 ozs oyster mushroom
8 ozs spinach
1 lb best quality young potatoes you can find
Directions
Lightly season the steaks with salt and allow to rest for 24hrs in the fridge with no covering.
Slice three red onion and fry gently for at least one hour in a little oil and butter, set aside, you will add this to the mushrooms later.
Roughly chop and fry the other red onion, add the red wine and reduce by 3/4. Add the oyster sauce, dash of balsamic vinegar. Strain and season with pepper, set aside.
Par-boil the baby potatoes until just cooked, set aside in a warm place.
Peel and dice the celeriac into a fine dice, 1/8 inch. Finely chop the garlic. Poach both ingredients for 20mins (until just cooked) in the milk and cream. Set aside in a warm place
Cut both mushrooms into a medium cut and fry in vegetable oil, add a knob of butter to finish, combine with red onions. Finely chop the spinach and add. Check seasoning. Set aside in a warm place.
Rub the steaks with a little oil and sear on a hot skillet. Cook to your liking, remove and baste in the red wine glaze. Add the finely chopped anchovy fillets.
No need to wash the skillet, add a knob of butter and the potatoes, season with salt and fresh pepper.
To plate ; add a generous spoon of the celeriac to the centre of the plate, then the rested steak and season with some fresh pepper only (you have enough salt with the anchovy and origional cure) Place the vegetable mix on top of the steak and serve.
Back to Recipes