Elderflower Cordial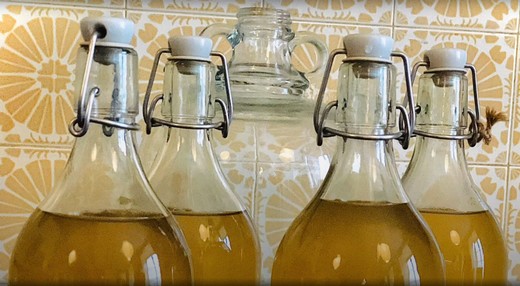 Recipe Date:
May 20, 2020
Measurements:
Imperial (US)
When the elder is in flower, you can preserve the aroma for months with a very simple recipe for elderflower cordial. And if you are feeling ambitious, you can amaze your friends with a non-alcoholic sparkling version. But don't wait too long; the flowers quickly turn to berries. Then your only recourse is elderberry pie!
Ingredients
12 elderflowers
1 1/2 quarts warm water (1.5 liters)
3 1/2 lbs sugar (1.6kg)
3 lemons cut in thin slices
1 3/4 ozs citric acid, available at a pharmacy (50g)
Directions
We usually make a double batch of the following recipe. It makes about 7 (wine) bottles. To use, pour a few teaspoons of the cordial in a glass with ice. Top with water, flat or fizzy. This cordial is also excellent as an ingredient in desserts and sorbets.
In a large bowl, pour the warm water over the other ingredients. Leave to macerate for 3 days. Do not cover or it will start to ferment.
Filter with cheese cloth or a fine sieve.
Bottle and cork.
Check out a quick video of this recipe on the Elden Selections YouTube channel and make sure to subscribe and turn on notifications!
Back to Recipes