Cured Salmon with Trio of Fennel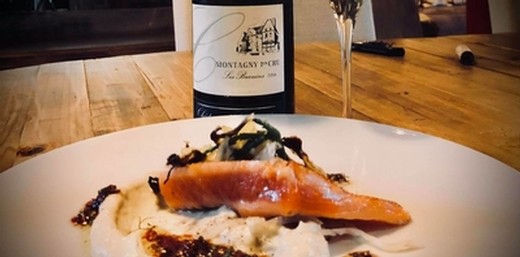 Recipe Date:
October 2, 2020
Measurements:
Imperial (US)
We purchased some wild salmon, marinating the deboned fillets in a 'dry cure' for 12 hours. We portion and very quickly pan seared the fish. Preparing the fennel three different ways results in a great array of textures. We served with a dill-pink peppercorn oil.
Ingredients
1 2/3 lbs sea salt
2 1/2 lbs brown sugar
10 star anise
3 tsps coriander seeds
8 oranges
3 lemons
3 limes
5 lbs wild salmon whole
3 fennel bulb
1/2 cauliflower
3 tsps pink pepper
3 tsps chopped fresh dill
1 cup best quality olive oil
2 cloves garlic
1 cup milk
Directions
To prepare the salmon ; This can be easily done by your fishmonger or check out our YouTube video for this recipe. The end result needs to be two boneless and skinless fillets.
To prepare the dry cure ; Remove the rind from the oranges, lemons and limes. Add the rind along with the salt, sugar and spices to a blender and combine well.
Curing the salmon ; In a plastic or casserole dish add a 1 inch base of the cure, layer a salmon fillet on top, follow with more of the cure and then another salmon fillet. Finish with a layer of the curing mixture. Leave for twelve hours, rinse well under cold water, portion and set aside.
Trio of fennel ; First the purée, take the outer layers of the fennel, roughly chop, add to a meduim sized pot. Add the cauliflower florets, garlic and milk. Simmer for 30 mins, blend, season and set aside. For the second type of fennel, remove the next layer and finely slice, add these slices to iced water, set aside. For the third and final part, thinly slice the heart of the fennel (including the stalk) and roast in the oven at 200f for 40 mins, rest on some kitchen paper and allow to become crispy.
Dill and pink pepper oil ; Using a metal sieve, remove the husk from the peppercorns. Combine with chopped dill and oil, set aside.
To Plate ; Allow a skillet or pan to become very hot. Rub the salmon fillets with a little oil and quickly sear both sides retaining the color and texture of the cure. Add a generous spoon of puréed fennel to the plate, followed by the salmon, iced fennel and roasted fennel. Check seasoning and finish with a generous serving of the pink pepper oil.
Back to Recipes