Creme de Chataignes aux Cepes et au Foie Gras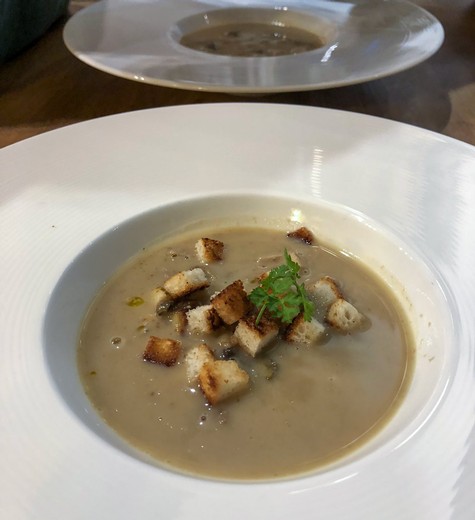 Recipe Date:
November 20, 2020
Measurements:
Imperial (US)
Ingredients
2 cups chestnuts, roasted and peeled
6 cups chicken stock
1/4 cup heavy cream
1 lb resh cêpes, stems removed from caps, wiped clean and cut into smallish pieces
4 slices of dense crustless bread, cut into small croutons.  French pain de mie is perfect
4 tbsps canola or grapeseed oil
4 ozs duck foie gras entier mi-cuit, cut into cubes and left at room temperature for 15 minutes before serving the soup
Fine sea salt
Freshly ground white pepper
Sprigs of chervil or flat-leaf parsley for garnish
Directions
If using fresh chestnuts you will need to cut a half-inch crisscross gash on the rounded side of each nut shell with a very sharp knife. Then roast the nuts on a baking tray in a preheated 425°F oven for 15 to 20 minutes, stirring once or twice. The shells will start to crack open. As soon as they are cool enough to handle, quickly remove the shell and peel away the skin. Do not let them cool completely; cold chestnuts are impossible to peel.
Heat the chestnuts and the chicken stock in a soup pot. Bring to a boil, simmer for 20 minutes and then add the cream. Process the soup in a food processor, blender, or with a hand-held immersion blender until fairly smooth. It's fine to have a few small pieces of chestnut in the soup. Season with salt and white pepper.

While the soup is simmering, sauté the cêpes in a large non-stick pan in half of the canola oil. Season with salt and pepper and cook until they release their aroma, but don't brown them. Put them on paper towel to remove any excess fat.

In the same pan, heat the remaining canola oil and sauté the croutons. Season them as well and leave them in the pan to reheat just before serving the soup.

To assemble the soup, divide the cêpes and foie gras among six warmed shallow soup bowls. Ladle over the hot soup. Garnish with the croutons and chervil sprigs and season with sea salt.
Back to Recipes