Cantal Cheese and Tomato Tart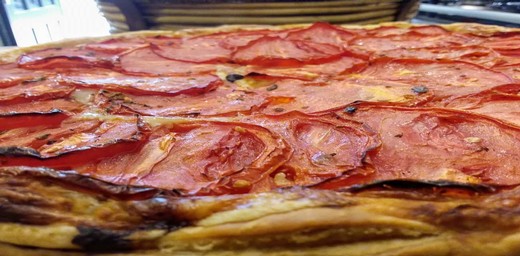 Recipe Date:
July 20, 2020
Measurements:
Imperial (US)
Cantal is a fruity cow's milk cheese coming from the Auvergne region of France. It's delicious as a table cheese but also has a great melting quality which is why it makes the perfect base for ripe garden tomatoes. The addition of a good brushing of tangy Dijon mustard directly on the uncooked pastry gives it a Burgundian twist. One important counsel with this tart is to salt the tomato slices at least 1/2 hour before assembling the tart. Otherwise they will exude too much juice and the crust will be soggy. The tart can be assembled and baked on solid rectangle baking sheet or in a round fluted tart pan with removable bottom.
Ingredients
1/2 lb puff pastry
8 medium-sized ripe tomatoes
3 tbsps olive oil
2 tbsps Dijon or full grain mustard
1/2 lb Cantal cheese
Fine sea salt
Freshly ground black pepper
1 tbsp fresh thyme or 1 teaspoon dried
Directions
Slice the tomatoes thinly and place in a shallow dish. Sprinkle with salt and pepper, drizzle with the olive oil and let marinate for 30 minutes.
Preheat the oven to 400ºF.
Roll out the chilled puff pastry in the form of your baking sheet, crimping the edges to form a shallow lip. Prick the pastry with a fork and chill in the refrigerator for 10 minutes.
Slice the cheese thinly. Drain the tomatoes. Take the pastry out of the refrigerator and brush it lightly with the mustard. Place a layer of cheese on the mustard, top with a decorative layer of tomatoes and sprinkle over the thyme leaves.
Bake for 35-40 minutes until the cheese bubbles up through the tomatoes and the base looks cooked when lifted with a knife. Let sit 10 minutes before cutting and serving.
Back to Recipes