Coq au Bourgogne Blanc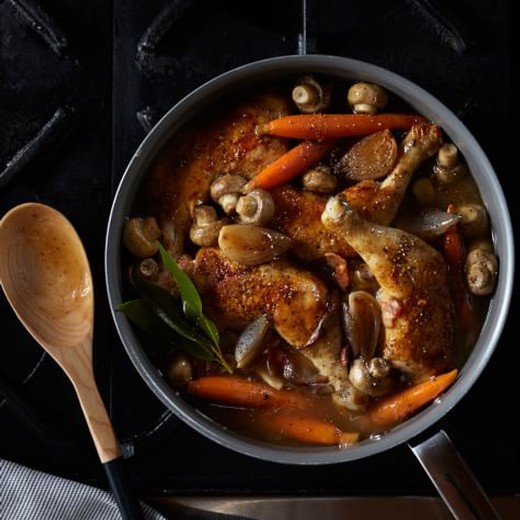 Recipe Date:
November 19, 2020
Measurements:
Imperial (US)
Ingredients
1 tbsp vegetable oil
4 best quality farm chicken thighs, skinned
4 best quality farm chicken drumsticks
4 shallots, sliced
4 cloves garlic, peeled, crushed
4 sprigs thyme
4 bayleaf
1 cup burgundy white wine
2 cups chicken stock
Directions
Preheat oven to 400°. Heat pan on stove over medium-high heat. Season chicken with salt and pepper and cook until golden brown, about 5 minutes per side; transfer to a casserole dish. Add shallots and garlic to pan and cook, stirring often, until beginning to soften, about 2 minutes. Add thyme, bayleaf and burgundy white wine and seasoning, bring to a boil, reduce heat, and simmer until reduced by ⅔ (about 4 minutes) add the stock, bring to a simmer and also transfer to the casserole dish. Braise in an oven for 30mins until chicken is cooked through and tender, 20–25 minutes.
Back to Recipes