Burgundian Cheese Puffs (Gougère)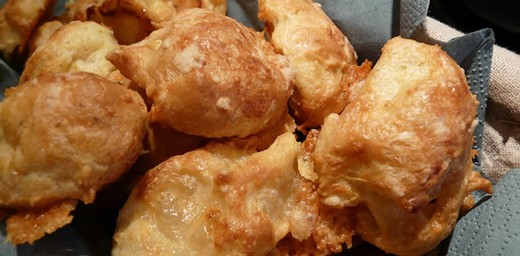 Recipe Date:
April 11, 2019
Measurements:
Imperial (US)
They should be crispy on the outside and soft on the inside. They are easy to make and extremely versatile. Kir, named after a very hospitable mayor of Dijon, is traditionally made with Aligote, the 'second' white grape of Burgundy. Originally, the dash of creme de cassis was meant to mask the acidity of the Aligoté, and many will serve it to you still as a way of getting away with cheap white wine. But use a good Bourgogne Blanc like the Borgeot Clos de la Carbonade, and you'll have the ideal Burgundian aperitif.
Ingredients
3/4 cup water
5 tbsps unsalted butter
2 tbsps butter (to grease the baking tray)
1/2 tsp fine sea salt
3/4 cup flour
3 large eggs at room temperature
2/3 cup finely diced Gruyere or Comté cheese
1/4 cup grated Gruyere or Comté cheese
Freshly ground black pepper
4 tbsps Milk
1/4 cup grated Gruyere or Comté cheese
Directions
Preheat the oven to 375˚ F. and butter a large baking tray
Put the ¾ cup of water in a saucepan with the butter and ½ teaspoon of sea salt. Bring to a boil, remove from heat, and stir in the flour all at once. Mix well with a wooden spoon or spatula until it forms a ball. Put the saucepan back on a low heat and stir the mixture vigorously for a minute or two to dry it out. Remove from heat and let cool five minutes.
Add the eggs to the mixture one at a time, beating well after each addition. The mixture should be shiny and smooth, and should hold its shape when dropped from a spoon. If the mixture is too stiff, beat another egg in a small bowl and add it bit by bit until the mixture can be formed into balls. If the mixture is too soft, the gougeres will not puff and hold their shape.
Stir in the diced cheese and the cracked black pepper. Form small balls with a teaspoon, dropping them onto a lightly-buttered baking sheet. Brush them with the remaining milk, sprinkle over the grated cheese and bake them in the upper third of the oven for 20 minutes until puffed and golden. Serve hot or at room temperature.
Gougeres can be baked ahead and rewarmed in the oven before serving.
Check out this video from Domaine de Cromey on how to make Gougère!
Back to Recipes