Brioche French Toast with Roasted Forced Rhubarb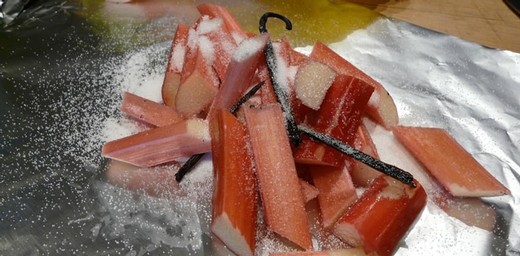 Recipe Date:
February 6, 2021
Measurements:
Imperial (US)
We 'force' our rhubarb in the early spring by covering the plant with an upside down garbage can. There in the dark, it develops tender, pale pink stalks with a more delicate flavor than regular rhubarb. If you can't find brioche, you can also make terrific French toast with panettone or a challah loaf.
Ingredients
1 lb pink rhubarb stalks cut on the angle into 3-4 inch lengths
2 vanilla pods split in half
1 cup granulated sugar
3 large eggs
1 cup whole milk
1 tsp sugar
1/4 tsp salt
1 brioche loaf cut into 8 (½ thick) slices
4 tbsps unsalted butter
Directions
For the roasted rhubarb:
Pre-heat oven to 350F.
Put the rhubarb pieces onto a large piece of heavy duty aluminum foil. Sprinkle over the sugar and add the vanilla pods. Add ½ cup of water and seal the packet. Put onto a baking tray and roast in the oven for 20 minutes. Open the foil and test the rhubarb to see if it is soft and done. Don't overcook or it will lose its shape.
For the French Toast:
Beat the eggs in a bowl. Mix the milk, sugar and salt together in another bowl. Melt the butter in a large sauté pan. Dip the brioche slices in the milk and then the egg. Cook the slices in the butter for 2-3 minutes on each side until golden. Serve the brioche warm with a scoop of vanilla ice cream and the warm roasted rhubarb.
Back to Recipes